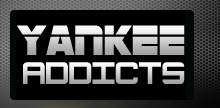 April 27, 2009 · Andy Auger · Jump to comments
Article Source: Bleacher Report - New York Yankees
The sports scene in Seattle was something straight out of one of those bad horror movies like Hatchet, or the Saw sequels.
The Seahawks missed the playoffs for the first time in recent memory, the Mariners were miserable, and we do not even have a basketball team to boo anymore because they currently reside in the 44th largest market in America, playing like my high school basketball team, who have not made the playoffs in 30 years.
The Mariners are in full-blown rebuilding mode, and they very well should be after the Bavasi Era, which saw some of the dumbest sports decisions I have ever seen (Carlos Silva anyone?). We are rid of him and his lack of ability to process a rational thought.
In is Jack Zdurencik, who just got done building the Brewers into a playoff team for the first time in 20-something years with his crafty moves in free agency and his strong emphasis on drafting, which produced Prince Fielder, Ryan Braun, JJ Hardy, Rickie Weeks, Bill Hall, Yovani Gallerado, and Carlos Villanueva, among others.
Simply put, he has a proven track record with drafting and developing the farm system, as well as signing effective free agents at low costs; however, he's not afraid to break the bank—Jeff Suppan, Trevor Hoffman, Mike Cameron—for some savvy veterans.
With the Mariners, he is doing everything right as far as rebuilding the team. He is bringing in low cost, low risk players to compete for jobs; here are some of my favorite signings, moves.
Ken Griffey, Jr.
Awwww, the nostalgia of Griffey beating those Yankee Scum in that '95 series. Not only was this economically smart for the Mariners, but for $2.5 million, we bring in someone who can still knock in 30 HR and 100 RBI—love this signing.
Mike Sweeney 1B, DH
Sweeney is an 11-time All Star who was derailed by injuries in Kansas City. He now not only has a chance at making the roster, but making a huge impact for this team if he can regain his form. He is regarded as the anti-Terrell Owens, and is not only a player with great credentials, but a vibrant locker room presence.
This is one of those low-cost, low-risk signings.
Chad Cordero
I absolutely love this signing. At no cost other than a minor league contract, we bring in a former All Star closer with good pedigree who, like Sweeney, was derailed by injuries with the Nationals. He should be viewed as the top candidate to take the closer role vacated by the JJ Putz trade.
Russel Branyan 1B
Another low-risk, high-reward move. He has never been given a chance to start but could get that chance with the Mariners. He has the potential to be cheaper than Richie Sexson, and do the same thing: hit 30 HR and strike out too much, still better to do that for $1.3 million than $12.5 million.
The JJ Putz Trade
I could not believe the Mariners got seven players (technically eight once you count in that they traded a piece later on for two others) for Putz and some other guys like Jeremy Reed and Sean Green, who were washes because they got Endy Chavez and Aaron Heilman.
Just the sheer numbers make them a winner; they picked up their starting CF Franklin Gutierrez, who has tremendous upside on offense and is outstanding on defense. A fourth outfielder who's better than Reed was, a potential closer in Heilman, a solid reliever in Vargas.
While additionally stocking up the farm with Mike Carp, Ezequiel Carrera, and Maikel Cleto, all of whom are highly touted prospects, especially Carp, who scouts say has the mold of Mark Teixeira.
This trade somewhat reminds me of the Erik Bedard Rip Off Bavasi Pulled, only this time we got the good minor league prospects and shipped our unwanted parts (Putz excluded) elsewhere.
The Aaron Heilman trade
The fact that we were able to take a guy who went 3-8 in 2008 and trade him for two guys was enough for me.
But we got two guys with great upside. Ronny Cedeno has a chance to start for us, and he pushes incumbents Jose Lopez and Yuniesky Betancourt to play better. Garret Olson is young and has a chance to start in the future, or be a key piece in the bullpen
I praise our new GM for the moves that he has made thus far.
With his track record, we should see some overpaid/under-performing veterans like Carlos Silva, Jarrod Washburn (who I like, but not for $10 million), Miguel Batista, Erik Bedard, and Adrian Beltre (whom I also like, and don't mind his salary because of his defense) on their way out of town by the July 31 trade deadline. In return, we should see the farm stockpiled.
I don't care if we win this year—it would be awesome, but when you're starting from square one, it's not realistic.
Oh wait, we're 12-5; third best in baseball!
But if you look at the roster, we have ridiculous SP depth, and I would say the best defensive team in baseball, but no offense, except for Griffey and Beltre. And although they are solid, it's highly unlikely they will strike fear in the heart of the opposition every night.
I'll never close the door on a team, the playoffs are always possible, and with strong pitching and a ridiculous defense, not out of the question even this year, but you have to be able to get some runs. It doesn't matter if we hold a team to two runs if we only score one.
Here's to a bright future for the Mariners, at least, but not in Seattle, where it just continues to rain…