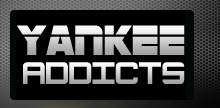 February 23, 2010 · Double G Sports · Jump to comments
Article Source: Bleacher Report - New York Yankees
As most of you know by now, the Yankees moved into a brand new stadium last season. The old Yankee Stadium is being torn down to make way for a large park that is expected to include baseball fields, a track, tennis courts, and more. Only one gate remains from the original 1923 Yankee Stadium.
That gate is Gate 2.
Yankee Stadium is currently being torn down and Gate 2 is expected to go with it.
See what you can do to save it!
See the touching video and more at Double G Sports
Read more New York Yankees news on BleacherReport.com