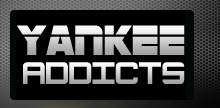 News published by
February 17, 2011
Pitchers and catchers have officially arrived at camp to begin workouts. Position players are arriving as well. It's that time of year when everyone makes a big deal out of little ...
February 14, 2011
Spring Training in Tampa, Florida will be very interesting to follow this year. The New York Yankees are coming in after a disappointing ending to 2010 and a somewhat odd offseason. Veterans ...
February 4, 2011
Derek Jeter, Mariano Rivera, Andy Pettitte, and Jorge Posada are no longer the New York Yankees' "Core Four."  After a 16-year career, Pettitte announced his retirement today.  In an official press ...
January 14, 2011
The 8th and 9th innings are once again in good hands at Yankee Stadium. While the starting rotation may still be a question mark, the bullpen is taking shape. New York ...
December 17, 2010
Sure, the New York Yankees had already signed a pitcher in Mark Prior, however let's not count that. The Prior deal is a minor league contract. After losing out on ...
December 8, 2010
Never a dull moment in the land of the New York Yankees, and this offseason is no different. The early talk was Cliff Lee and Derek Jeter. Now that Jeter is ...
December 3, 2010
Other than the back and forth bickering about Derek Jeter through media outlets, the New York Yankees had been fairly quiet this offseason. Sure, they have been talking with free ...
November 15, 2010
Andy Pettitte is a free agent once again. It's retirement or another year on the mound for the veteran lefty. The Yankees need him to play one more year. Currently, the ...
November 8, 2010
Major League Baseball free agency officially began on Sunday. The Yankees and Mets could both be players in this year's market. The Yankees normally are out to get the biggest ...
October 29, 2010
With the New York Yankees and manager Joe Girardi having ironed out a new three-year deal, general manager Brian Cashman can focus on finding a pitching coach. After firing Dave ...