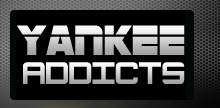 April 21, 2010 · Christopher Chavez · Jump to comments
Article Source: Bleacher Report - New York Yankees
Yesterday there were rumors flying that Mark Teixeira could be the next big name baseball player to be suspended due to performance enhancing drugs. Major League Baseball then made the announcement that it was not Teixeira, but Edinson Volquez of the Reds, that failed a drug test.
A sigh of relief was taken by the New York Yankees organization and fans.
Teixeira laughed off the rumors when he was informed in Oakland yesterday of his possible suspension. It would boggle and perplex people why he would test positive, since he was one of the players that pushed for stricter testing.
Teixeira has more things to be concerned about and says he would not be bothered by those rumors. In fact he is going through an April slump and is digging a big hole for himself. But the questions will always be there just like any successful player in this era. Did Mark Teixeira take anything in his career to make him the beastly player that he is today?
In my view and in the view of many others, Teixeira is innocent. It goes against the type of person that he is and the type of a role model he has become.
The Yankees first baseman had emerged as one of the most talented rookies in recent years when he played for the Texas Rangers.
He is now one of the highest paid players in the game and a World Series winner in his first year with the Yankees in 2009.
What could push Teixeira to take performance enhancing drugs? Nothing.
Tex is a talented player and would not harm his body in order to get an edge. He is a team player, but would not cross the line and ruin the game of baseball for his team, family, friends, and fans.
Teixeira could be near the top of a list of players that would never test positive for performance enhancing drugs. Maybe, fifth or fourth on that list, because Derek Jeter has the top spot secure as the saint of Major League Baseball.
Read more New York Yankees news on BleacherReport.com