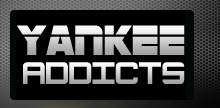 June 8, 2009 · Arne Christensen · Jump to comments
Article Source: Bleacher Report - New York Yankees
Louisiana Lightning's retirement in July 1989 didn't necessarily mean the end of an era, but if memory serves, he was the last of the late '70s Yankees to leave the team.
Some quotes from his teammates upon Guidry's retirement:
Reggie Jackson: "I remember Louisiana Lightning. I remember his small frame, stepping behind the mound, taking a deep breath and throwing a hellish slider to strike somebody out.
"Great career, great man, great Yankee. The sad thing is he won't touch as many lives now that he's out of the game. And anyone who was touched by Ron Guidry was made better for it."
Willie Randolph said: "I've always said Ron Guidry, pound for pound, was the fiercest competitor I ever played with. Nobody wanted to give him a chance when he first came up. Too skinny, too small, they all thought. They couldn't see what he had in his heart. He had a big one and a lot of determination."
Sparky Lyle: "He was kind of like Thurman [Munson] in a way. He just went out, did his job and never complained. We all felt bad that he never got to the big leagues sooner. He got jerked around a little, but he never said anything . . .He was a great one. He sure did the pinstripes proud."
His manager, Bob Lemon, on 1978: "In the playoff game, he gave up a hit and I brought in [Rich] Gossage. When he got in the dugout, Guidry said, 'What the hell, can't you give up a hit in this game?' I told him I had Goose ready, but he didn't want to come out of the game for nothing."
Dave Righetti: "He was my role model in the beginning, and he probably will be until I die."
And, one from a rival. Carl Yastrzemski said: "I loved the competition facing Guidry, especially in his younger years. You knew he was going to come right after you. He'd come after you with fastballs, but then he got cute with that slider . . . I think he loved the challenge of facing each other as much as I did."
Finally, Marty Noble of Newsday wrote: "The image of Ron Guidry was forged on a Saturday night in June, 1978, when he struck out 18 California Angels. On that night, when two-strike clapping was born in the Bronx, Guidry became a Strikeout Pitcher—with an uppercase K. He repeatedly reinforced that image during the next decade. And he never declined that identification until yesterday, when he retired."