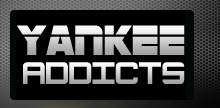 News published by
December 24, 2009
With the 20th anniversary of Billy Martin's death on Christmas evening 1989 upon us, it's a good time to look back on Martin's impact on the Yankees and ...
November 9, 2009
Today I came across the resolution Congress passed in the wake of the Yankees winning the World Series. The text of the resolution includes this: "Whereas the contributions of the Yankees' players ...
November 2, 2009
As a follow-up to my recent article about Alex Rodriguez's productivity in the playoffs as a Mariner, here are some portions of an interview I did early this year with ...
November 2, 2009
With the soul of David Ortiz circa 2004 apparently having been transferred to Alex Rodriguez, at least for the 2009 playoffs, it's a good time to look back at the ...
September 7, 2009
In the second half of May 1995, while an awful lot of people (including myself) weren't paying any attention because the strike had just ended, Derek Jeter, Andy Pettitte, and ...
September 7, 2009
The past decade has seen impressive growth in major league baseball's popularity. It's hard to believe now that the institution was wobbling quite a bit after the mid-90s strike. To ...
June 8, 2009
Louisiana Lightning's retirement in July 1989 didn't necessarily mean the end of an era, but if memory serves, he was the last of the late '70s Yankees to leave the ...
May 30, 2009
I happened across an item in the Feb. 3, 1915 edition of The New York Times, about a trade rumor during the winter meetings, which were being held in a ...