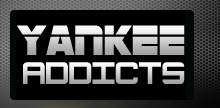 September 20, 2011 · Harold Friend · Jump to comments
Article Source: Bleacher Report - New York Yankees
In 1962, Roger Maris batted .256/.356/.485 with 33 home runs and 100 RBIs, which didn't approach his 1961 record-setting season.
In 1928, Babe Ruth batted .323/.463/.709 with 54 home runs and 142 RBsI, which approached his 1927 record-setting season.
Roger Maris continually told the media that he was Roger Maris, not Babe Ruth. All he was attempting to do was to hit more than 60 home runs in 1961.
The baseball writers blamed Maris for being a shy, reticent, modest individual, but that was Roger Maris.
The media found it difficult to reconcile the fact that Maris was rich and a world-famous personality who could build a mansion for his family (can anyone say Derek Jeter or Alex Rodriguez?), take them on a world tour or buy fancy cars, but didn't.
When he first arrived in New York, the Big Apple, the greatest city in the world, the home of arrogance, pride and pomposity, the young man from Hibbing, Minnesota was wearing a sport shirt and blue jeans. He was immediately told to dress properly.
Maris responded. "If they don't like how I dress, I'll go back where I came from." The New York sportswriters called him aloof, rude and a hick.
His Yankees teammates respected Maris. They had great affection for him and accepted the fact that when he came into the dugout after batting practice or shagging fly balls, he took a seat on the dugout steps and kept to himself. He was never surly or curt, but he rarely talked baseball or joked around.
After a game, Maris showered, dressed, briefly answered questions and went home.
Unlike many of his teammates, Maris didn't move to the New York metropolitan area. He lived in an apartment in Jackson Heights, Queens while his family remained in Missouri.
Roger didn't hang out at Toots Shor's restaurant, which was a favorite of athletes, especially Joe DiMaggio and Mickey Mantle. Instead, he stayed home and watched television in order to avoid being recognized in public. An introvert doesn't provide good copy.
1963 was a terrible season for Maris. He suffered a hand injury sliding into home plate, which limited him to 90 games. He batted .269, with 23 home runs, but it was a difficult year emotionally, as exemplified by an incident in a game against the Minnesota Twins, which is almost never mentioned anymore in our increasingly "politically correct" society.
Playing right field in Minnesota, Roger messed up a ground ball single to the outfield. As he returned to the dugout after the Twins were retired, he looked into the crowd and raised the third finger of his right hand. Yankees broadcaster Mel Allen, possibly for the first time in his life, was at a loss for words.
Following his 1963 season, some writers and many fans started to think that 1961 had been a freak year when everything broke right. They were wrong.
The Yankees acquired Maris because he had all the tools. He was the MVP in his first season in New York and followed that up by winning it again in 1961.
For most of 1964, Maris was healthy. He had a season that reflected the type of career he would have had if he never were traded to the Yankees and had never set the all-time single-season home run record.
Maris batted .281, which is quite respectable and was second on the team to Mickey Mantle's .303. He had a .364 on-base average and a .464 slugging average to go with his 26 home runs and 71 RBIs.
Roger Maris wasn't Babe Ruth or Mickey Mantle or Don Mattingly or Derek Jeter. He was simply Roger Maris. He had the right to always be Roger Maris.
Reference:
Dexter, Charles. "Is Maris Fretting Himself Into Oblivion?" Baseball Digest. Feb. 1964.
Read more New York Yankees news on BleacherReport.com