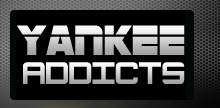 February 24, 2012 · Harold Friend · Jump to comments
Article Source: Bleacher Report - New York Yankees
In an attempt to help a challenged offense, on July 15, 1968 the eighth-place New York Yankees (they weren't last because there were 10 teams in the league) signed Rocky Colavito, who had been released by the Los Angeles Dodgers.
The new Bronx Bomber fit in well, considering the circumstances.
Colavito, who batted only .220/.330/.451 for the Yankees, had one memorable game that was the highlight of the Yankees' season.
The Yankees were playing a Sunday doubleheader on August 25 against the Detroit Tigers. The teams had played a twin bill on Friday that both teams wanted to forget.
At the end of 19 innings, the second game was tied at 3-3 when it was called. After five hours.
Unlike today, teams played regularly scheduled doubleheaders until the baseball moguls realized that two admissions are more profitable than one.
Those Sundays were glorious baseball marathons. A 2 P.M. sun-drenched Yankee Stadium would become a 5 P.M. field of shadows, only to be transformed into baseball battlefield that needed artificial lights to avoid being in almost total darkness.
Pat Dobson started for the Tigers against Steve Barber in the first game. By the top of the fourth inning, the Yankees trailed the Tigers, 5-0.
With Tigers runners on first and second and one out, Yankees skipper Ralph Houk didn't have much left in his bullpen, so he summoned Colavito into the game to pitch. The crowd was delighted.
Colavito had one of the best arms of any outfielder who ever played. The problem was his arm was almost as erratic as it was powerful. He always joked that he would make a pretty good pitcher.
On this day, Colavito confidently strode in from the right field bullpen, took his warm up pitches and retired Al Kaline and Willie Horton, stranding the runners to keep the deficit at 5-0.
The Yankees rallied and with Colavito still pitching, scored five times in the sixth inning to take a 7-6 lead.
Houk didn't want to press his luck so he quickly yanked Colavito. His pitching line read two and two-thirds innings pitched, one hit allowed, two walks and one strikeout.
The overworked bullpen protected the one-run margin as Rocco got the victory, which was his first and only major league pitching win.
Read more New York Yankees news on BleacherReport.com