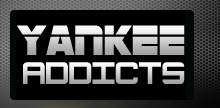 February 20, 2010 · Joseph DelGrippo · Jump to comments
Article Source: Bleacher Report - New York Yankees
Since the late 1990's dynasty years, and well before high walk totals and high on base percentages were fashionable, the New York Yankees lineup was known as a patient group, working the pitcher to drive pitch counts up and getting to the opponents bullpen early.
Often they would get to the bullpen by the fifth, sixth, or seventh innings. And when it became a battle of the bullpens, the Yankees always had the advantage with hurlers like John Wetteland, Mariano Rivera, and Jeff Nelson.
More importantly, the dynasty-era hitters were patient in hitting not just any pitch in the strike zone, but their pitch to hit. Guys like Bernie Williams, Tino Martinez, Jorge Posada, Tim Raines, Darryl Strawberry, and Wade Boggs were pitch selective, not taking for the sake of taking.
They worked the pitcher to not only drive pitch counts up, but to get a pitch they can drive. Those assorted Yankee players won four World Series titles.
Getting pitch selection usually leads to higher batting, on base, and slugging percentages. Getting a good pitch to hit was the hitting mantra of the greatest right-handed hitter of all time, Rogers Hornsby, and the "Splendid Splinter," Ted Williams, who learned it from the Rajah.
The current Yankee championship team mostly uses that same philosophy, although I believe more players now take for the sake of taking pitches.
It is very difficult for a hitter to take strikes, get behind in the count and still have good at bats. A player has to have the utmost confidence in his ability to hit with two strikes in order to be patient and take pitches.
Although you wouldn't know if by the high whiff totals in today's game, many players have a fear of striking out. Those hitters like to avoid the two strike count and go to the plate hacking at the first strike they see.
These players are often high average guys, but do not usually have high on base percentages.
The current Yankee who fits that bill is second baseman Robinson Cano.
Cano has a career batting average of .306, but only a career OBP of .339. He had more hits in his rookie season (155) than he has walks–in his career (129).
He will never be that patient hitter that many Yankee fans clamor for, and will always be the free swinger. Yankee hitting coach Kevin Long has no plans to take away Cano's aggressiveness.
"Cano's approach is what makes him such a dangerous hitter," Long told me back in early January. "We will not try to change his approach, but will attempt to get him to swing at better pitches that he can drive."
Cano is a dangerous hitter, and despite his anemic batting average with runners in scoring position last season (.207), he is a career .256 hitter in that same situation. Cano hit .290 with RISP in 2007 and .306 with RISP in 2006.
I believe last season was an aberration. Cano will bounce back in 2010 and drive in at least 110 runs, and that will happen if Cano bats eighth in the Yankee 2010 lineup.
Why would I have a .306 career hitter who hit .320 with 25 home runs last season hit eighth?
Because I would have two patient "walk machines" in Nick Johnson and Nick Swisher hit sixth and seventh, directly in front of Cano.
When coaching various baseball teams over the years, I have always hit aggressive high average guys right behind high OBP guys.
And it has worked very well. Those high average guys always drove in a ton of runs, and we won a lot of games.
This scenario means that my 2010 base Yankee lineup would have Curtis Granderson hit second and Jorge Posada fifth and protecting Alex Rodriguez.
I always like speed at the top, and Derek Jeter and Granderson provide plenty of speed (and even more with Brett Gardner hitting ninth). With that combination, I predict that a couple times this season, the Yankees will be ahead 2-0 just two batters into the games as Jeter will single and Granderson follows with a two-run homer.
One thing with this lineup that could possibly provide some concern is that three slow runners would hit fifth, sixth, and seventh. But speed is not a requirement lower in the order. Plus Posada and Swisher are consistent 25-plus home run guys with good slugging averages. That high slugging would move the runners around the bases more than at a snails pace.
And then the Yankees will have Cano come up to drive in those existing runners.
Read more New York Yankees news on BleacherReport.com