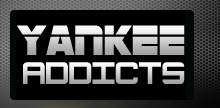 May 22, 2013 · Joseph Browne · Jump to comments
Article Source: Bleacher Report - New York Yankees
Robinson Cano is currently the most dangerous and talented second baseman in Major League Baseball.
There are others in the conversation—Dustin Pedroia, Ian Kinsler, Brandon Phillips—however, none of them bring the complete combination of tools to the equation that Cano does, and none of them are asked to be the main component of their respective offenses.
Cano is a special talent—a generational talent, really—and that he has continued to produce in a 2013 New York Yankees lineup that could easily be assembled for an old-timers game makes his year-to-date totals that much more impressive.
It has become more likely, with the firing of agent Scott Boras, that Cano will remain a Yankee beyond this season. It is not certain, but it is more likely. While this is the outcome the Yankees organization seemingly wants, the reality is that if Cano is re-signed, the Yankees will be entering into the 2014 season with a 31-year-old second baseman making somewhere above $20 million per year.
The Yankees already have enough $20 million-per-season infielders and currently, none of them are producing anything near what they would need to in order to justify those dollars. The specific players, Alex Rodriguez and Mark Teixeira, are unfortunately not going anywhere anytime soon, and so with the anticipated signing of Cano, 2014 will see the team with over $60 million tied up before counting anyone in the outfield, on the mound or on the bench.
These are circumstances that cannot be helped, and though some have lamented the limited thinking and foresight that went into certain signings, nothing can change the fact that certain players will be with the team regardless of whether that is best for the team or not.
This brings us to the general question of overall payroll. Anyone following the Yankees for any length of time over the past few seasons is well aware of the team's expressed desire to reduce payroll to $189 million or less annually. It remains to be seen if this is even possible, considering all of the Lotto-esque salaries that remain on the books, but no doubt the organization will try.
To get where they need to be payroll-wise, then, decisions must be made. There are a good amount of dollars likely going away, roughly $25 million between the definitely departing Mariano Rivera and the very-likely-to-be-departing Curtis Granderson. However, the signing of Cano alone will likely come close to negating those savings.
Again, what the Yankees want to do and what they can do aren't necessarily the same thing. Regardless of the payroll considerations, though, the organization cannot afford to continue the approach they've had recently, meaning the practice of ignoring both external solutions to problems while holding back the majority of their best prospects.
Something has to give, and if you need proof of that, just take a look at the empty seats at Yankee Stadium this season—with the team in first place, no less. By not attempting to lure any of the big-name free agents that were available this offseason and by not supplementing the roster with internal assets when the first injury epidemic struck—they are currently in Phase II of the process now— Yankees fans have been less inclined to apply for the loans they need to pay for tickets to the park.
In other words, no matter how well Lyle Overbay and Vernon Wells play, thousands of people who may have otherwise chosen to see a Yankees game are now opting to pay their mortgages instead.
Not a good formula for a franchise that continues to dilute its product and brand by prostituting the once sacred grounds of Yankee Stadium for college bowl games, NHL spectacles (coming soon) and MLS soccer (also coming soon) games.
While it is true that injuries have derailed certain plans and resulted in some players being on the roster who otherwise wouldn't have been, there is a partial solution to the issue of the aging, overpaid infield that not only keeps a big-name player in the mix but also brings along a prospect as well.
Said another way, Yankees fans would continue to see world-class talent in their infield while also being given the opportunity to root for a homegrown asset. It's the formula that propelled the organization to four titles in the late 1990s and early 2000s, and it's a formula that would work again.
The partial solution, then, is to sign Cano, move him to third base and give David Adams every opportunity in the world to earn and keep the second-base job.
Now, no one is saying this wouldn't be a tricky enterprise. Convincing Cano to forego the opportunity to surpass all-time production records for second baseman will not be an easy discussion. However, it should be noted that there is precedence for this kind of move in the form of Alex Rodriguez.
Rodriguez, you'll remember, was the best shortstop of his day, perhaps the best of all time, even taking into account the fact that he apparently supplemented his performance with nasty substances. He was well on his way to setting all kinds of tainted records for shortstop production but instead chose to take one for the team and move to third base when he joined the Yankees in 2004.
Rodriguez, despite his penchant for needles and habit of being less than forthright with the media regarding his actions, is something of a role model to Cano, and so he can be volunteered into helping the conversation along.
In the end, it would be in his best interest do so, specifically because movement of any kind, much less the movement required to play third base daily, seems to not agree with him. His contract runs for another 20 years or so, if memory serves, and he was heading toward the designated hitter role at some point regardless.
As for David Adams, he is worth the look. He is big at 6'1″ and 205 pounds—Jeff Kent big, actually—and he likely projects as a 15-homer kind of guy. He also has shown an uncanny ability to drive in runs wherever he has gone, and in a Yankees lineup that figures to not be full of spare parts for long, he can do some damage.
Moreover, having Adams slot in to the second-base position saves on payroll. He is a long way away from making real MLB money, so he fits into the Yankees' need to shave dollars.
Additionally, with Derek Jeter approaching his own personal sunset in a year or so, the Yankees could avoid having to fret over replacing the entire left side of the infield (the presumption being that Rodriguez will not be able to handle third base for any length of time if he returns).
The alternative to this approach, of course, would be to use Adams in a trade for other necessary parts, including a third baseman if the approach outlined here is not followed or another Youkilis-like spare part from year to year to handle third base.
The Yankees, of course, have struggled to replicate the success engineered by Gene Michaels in the early 1990s and beyond, and so it is possible that the culture that allowed for the development of internal assets simply no longer exists in Tampa and the Bronx.
This would be a shame. The Yankees' system actually has several non-pitching prospects with serious upsides—Gary Sanchez, Slade Heathcott, Tyler Austin and Mason Williams are among these non-pitching prospects—and it would be a treat for any serious Yankees fan to be able to watch the youngsters come into the league and grow over time.
Time will tell how the Yankees proceed. At some point, however, Yankees leadership has to convince its fanbase that it wants to win as much as it says it does. Since the death of George Steinbrenner, there has been a paradigm shift within the organization, as evidenced by all the peripheral branding the team has been focusing on as well as by the desperate need to reduce payroll.
Hal Steinbrenner, son of George, is a business person before he is a baseball owner. He would have little direct involvement in any discussion to move Cano to third base, if any, but the move would serve his interests, nonetheless.
The move would serve the interests of Yankees fans as well: They'll have top-flight talent manning third base and a rookie to root for at second base. Not a bad deal at all, really.
It remains to be seen, though, whether or not serving the fan's interests is in fact an interest of Hal Steinbrenner's.
Read more New York Yankees news on BleacherReport.com