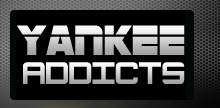 News published by
May 22, 2013
Robinson Cano is currently the most dangerous and talented second baseman in Major League Baseball.There are others in the conversation—Dustin Pedroia, Ian Kinsler, Brandon Phillips—however, none of them bring the ...
November 4, 2012
The 2013 Yankees, no doubt, will be an old team. The infield, which has been the foundation around which the entire team has been built over the past seasons, averages ...
October 31, 2012
If you've followed the Yankees on even a semi-consistent basis over the past two years or so, you know by now that ownership is mandating that the team payroll gets ...
October 22, 2012
As the 2012 postseason has finally come to a merciful end for the New York Yankees, the organization must again prepare to look ahead. The season lasted a little longer ...
October 16, 2012
Through seven games of the 2012 playoff season, the Yankees' offensivenumbers, across the board, are beyond bleak. The team slash line is .205 avg/.277 OBP/.326 SLG/.603 OBPS, an ugly sight by any measure and a ...
October 11, 2012
With all due respect to Raul Ibanez, this was not the way things were supposed to happen.Down 2-1 in the ninth inning of a pivotal Game 3 in the ALDS, ...
March 16, 2012
Michael Pineda is very happy with his changeup right about now. It's the pitch that everyone in Yankeeland has been telling him he needs to develop if he wants to ...
January 3, 2012
When an actor in Hollywood takes on an iconic role, the biggest concern for that person is the possibility of becoming typecast—in other words so identified with that role and ...
December 28, 2011
When the NY Yankees were searching for a replacement for Joe Torre after the 2007 season, the choice was ultimately between Don Mattingly and Joe Girardi. It's probable that there ...
December 27, 2011
There can be little debate that Jorge Posada accomplished a great deal as a New York Yankee. He was the primary backstop of four separate championship teams, of course, and he contributed ...