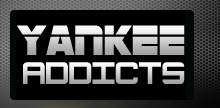 December 27, 2011 · Joseph Browne · Jump to comments
Article Source: Bleacher Report - New York Yankees
There can be little debate that Jorge Posada accomplished a great deal as a New York Yankee. He was the primary backstop of four separate championship teams, of course, and he contributed directly, in significant ways, to each of those championships.
While Posada will not be remembered for being a particularly stellar defender, the reality is that his offensive production was surpassed only by Mike Piazza in terms of catchers who played the majority of their careers in the 1990's and 2000's. And that's with Ivan Rodriguez in the discussion.
Using the 162-game average approach to evaluating a player's offensive production, the Yankee backstop produced an average line of .273/24 HR/94 RBI/.374 OBP/.474 SLG/.848 OPS from 1998 through 2010, which represents the core of Posada's active career. Rodriguez, on the other hand, despite all the fanfare and public recognition, produced a less impressive line of .296/20 HR/85 RBI/.334 OBP/.464 SLG/.798 OPS from 1992 through, incredibly, last season.
Rodriguez will be remembered as being the far superior defensive backstop, of course, and he does get points for playing effectively for such a prolonged period of time, but in terms of average offensive production Posada does have the edge.
As an aside, for an idea of just how offensively dominant Piazza was as a catcher, take a look at his production from 1993 through 2007, his core active years: .308/36 HR/113 RBI/.377 OBP/.545 OBP/.922 OPS. Remarkably, these numbers include the last five years of his career, where his production was significantly below his previous benchmarks.
As for Posada, despite all of his accomplishments individually and team-wise, and despite his diminishing skills, somehow he has not come to the conclusion that the time has come to put away his equipment and return to the land of the normal. Or, perhaps more realistically, to the land of the not-quite-all-that-normal considering that he has the millions upon millions of dollars he earned to enjoy for the remainder of his life.
If recent rumors from ESPN Deportes (h/t MLB Daily Dish) are correct, Posada may be drawing interest from several clubs: Tampa Bay, Philadelphia and Baltimore to be precise. The likelihood of Posada landing a gig is really immaterial to this discussion, however, as the true issue is what Posada's pursuit of a gig truly represents.
In simple terms, Posada's interest in playing in 2012 is a mere extension of his monumentally selfish behavior over the course of the 2011 season. From his inability to "adjust" to the DH role to his pregame tantrum about his place in the batting order, Posada demonstrated in clear terms just how out of touch he is with the world around him.
Yankee lovers will endlessly excuse Posada's boorish behavior as being a representation of just how proud a man Posada is, but we forget that our culture once considered the possession of excess pride to be a social and moral deficiency.
And so it should be considered as such in this case, at least in how the term applies to Posada's behavior over the past year or so. In the midst of economic times not experienced since the Great Depression, Posada finds it difficult to "adjust" to being paid $13 million to play a different role on his team.
To put that number into perspective, the average wage in America is roughly $50,000 a year. Some grade-school math tells us, then, that the average American would need to work in the range of 260 years to equal what Jorge Posada earned in 2011. This is not to begrudge Posada his wages, not by any means. The skills he possessed warranted him being paid whatever the market dictated, and kudos to Posada for not wasting a level of talent that is incredibly rare.
With that said, however, if to ensure employment the average American worker can be "asked" to "adjust" to working conditions that said worker might not consider optimal, Jorge Posada can be asked to, and should be expected to comply with, whatever "adjustments" his employer requests. For $13 million per year you could ask this writer to dodge rocket-propelled hammers if need be; being asked to sit on a bench and hit four times a day just doesn't seem to be all that arduous a task in the grand scheme of things.
There have been signs prior to this year that Posada was perhaps not truly the one-for-all, all-for-one type. Perhaps the best indication of Posada's me-first tendencies was seen in the year he had leading up to his previous walk year.
It was 2007, you'll remember, and Posada turned in a performance that, in many ways, dwarfed whatever he had been able to accomplish before or since. Quite convenient, some might say. His line of .338/20 HR/ 90 RBI/.426 OBP/.543 SLG/.970 OPS was staggering, especially in that he was 35 years old at the time.
In the end what was truly staggering was the fact that he was able to secure $52 million over four years from a panicked Yankee ownership group (read Hank "Get Him Away From The Checkbook" Steinbrenner), despite the fact that there were no comparable bidders for his services at the time.
There have also been numerous times where Posada would get testy with reporters, or come across as if he was mad at the world despite his exalted place in it. Typically if he was asked about a poor decision or performance his response, figuratively if not literally, was akin to a King Cobra lashing out at an intruder. Surly would probably be the best word to describe Posada at times, but somehow all of this was forgotten by Yankeeland and the fans that occupy it.
This is understandable to a degree. Posada is, after all, associated with and a major contributor to one of the most successful eras in all of Yankee history. He is also clearly loved by his teammates, which was perhaps most apparent in the way Derek Jeter and Mariano Rivera responded to him during their respective iconic moments this past year. Additionally, Posada gives of his time and resources to various charities, consistently and generously, and so he is no monster, not by any means.
In seeking life after the Yankees, though, Posada is also indirectly pursuing a course that will only serve to further undermine his legacy as a Yankee. That legacy is owned of course by Posada himself, but also by the fans that have supported him and the team so faithfully over the course of his career. He has a certain responsibility to treat it with care, for the fans if not solely for his own ends.
What is most unfortunate is that there seems to be something spiteful about Posada's actions, something far too personal and acrimonious towards Yankee management and ownership, and this brings us back to the lack of perspective that Posada has demonstrated.
While other baseball franchises would have paid Posada for his services as a ballplayer, the fact is that the Yankee franchise has treated him like royalty and never publicly uttered a negative word against him. Not during contract negotiations, not while he was pouting about his place in the lineup, and not while he was dragging down the Yankee lineup for much of the 2011 season.
In practical terms, it cannot be dismissed that the Yankees have four, perhaps five catchers ahead of Posada on the depth chart heading into the 2012 season. It must also be noted that the team has one of the most highly touted offensive prospects in Jesus Montero slotted for the DH role. This is a business, as Posada clearly understands, and when more attractive assets exist management has an obligation to promote them.
Knowing this, Posada should have entered 2011 with the recognition that he was being given a gift, one that he should have embraced and enjoyed. His performance would have certainly benefited from a different mental approach, and perhaps we could have all avoided the bitter taste that has come along for the ride as we say goodbye to him.
Surly can be forgiven pretty easily, especially in the context of the pressures associated with performing in front of millions of people, half of which are passionately hoping that you fail miserably. A lack of grace and appreciation, however, well, that's a different story altogether.
Read more New York Yankees news on BleacherReport.com