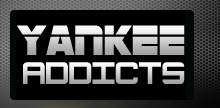 May 22, 2009 · Perry Arnold · Jump to comments
Article Source: Bleacher Report - New York Yankees
There are a number of excellent second basemen in the major leagues.
A few of the best would have to include Ian Kinsler of Texas, Placido Polanco of Detroit, Brian Roberts of Baltimore, Dustin Pedroia of Boston, Jeff Keppinger of Houston, Freddy Sanchez of Pittsburgh, Chase Utley of Philadelphia, and Brandon Phillips of Cincinnati.
But at this time in his career, at age 26, the New York Yankees have the best of the entire bunch in Robinson Cano.
Cano carries a career batting average of .304 and a career on-base percentage of .336.
Through 41 games in 2009, Cano is hitting .317 with an OBP of .354. But he also has improved his slugging stats with eight HR and an OPS of .881. His OPS+ is 127 for the year.
Cano was almost given up for dead during the 2008 campaign when he seemed distracted and lethargic. It was his worst year in the majors and he finished the season hitting only .271.
Even that average did not tell the whole story as Cano had to finish very hot to even get to that mediocre level.
There was a great deal of talk by "experts" that the Yankees should trade Cano. Fans seemed to have given up on him too and his future seemed clouded.
But Cano has hit as high as .342 for an entire season as he did in 2006 when he just missed winning the American League batting crown.
No other current second sacker has finished a season with an average as high as Cano did in 2006, although Placido Polanco was close when he hit .341 in 2007.
For this season, Dustin Pedroia of the Red Sox has a higher batting average by one point and a higher OBP by 56 points. And Pedroia was awarded the MVP in the American League last year when he hit .326 and led his team to a championship playoff against eventual pennant winner, Tampa Bay Rays.
Pedroia works as hard as anybody in major league baseball and is just as gritty. But Cano has more natural power than Pedroia and more natural talent.
Chase Utley of the Phillies is another highly regarded second baseman. And you cannot argue against a player who helped lead his team to the World Series championship last season.
Without question Utley exceeds Cano with power. But Cano has a higher lifetime batting average and his upside certainly seems higher than Utley's.
But Cano's talent is boundless. The only real knock on the Yankee is whether he has the desire to be excellent game in and game out.
At the plate Cano has been compared to the likes of Rod Carew.
Cano has exceptionally quick hands and can turn on an inside pitch and drive it over the wall. He proved this last night, against the Orioles, when he hit a laser over the right field wall that never seemed to get more than ten feet off the ground.
But he also has exceptional bat control and can cover the outside corner of the plate, spraying line drives down the left field line and into the gaps.
On defense, Cano has as much range as he seems to need and has superior instincts. The quick hands that benefit him at bat also permit him to release the ball very quickly. He also has a strong arm that often surprises because his throws arrive with seemingly little effort.
He is adept at getting the ball to his infield partner, Derek Jeter to begin double plays.
And when the ball is hit to Jeter, Cano is nimble around the bag and turns double plays as well as anyone in either league.
Cano will slump and becomes his own worst enemy by failing to concentrate fully in every game. But when Robinson Cano comes to the park ready to play, there is no better second baseman in baseball.