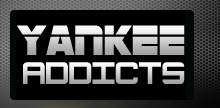 May 2, 2013 · Zachary D. Rymer · Jump to comments
Article Source: Bleacher Report - New York Yankees
Gather 'round, everyone. It's time to reignite the hot stove and talk potential New York Yankees transactions.
When the Yankees placed Kevin Youkilis on the 15-day DL with a back injury this week, Danny Knobler of CBSSports.com let the world know that the club was on the prowl for right-handed bats:
The Yankees actually went and got one on Wednesday evening, announcing that they had acquired infielder Chris Nelson from the Colorado Rockies.
But is the issue really taken care of?
It may not be. Yankees manager Joe Girardi only said that Nelson will get a chance to play "at some point," and Mark Feinsand of the New York Daily News has said that Nelson is likely to fill in just as a utility infielder, while Jayson Nix holds down the fort for Youk at third base.
If the search isn't over, the big question becomes: What other options are out there?
Fair warning: not many good ones. But let's go ahead and round up the suspects anyway, starting with the usual ones.
The Big Fish
We're talking about the Yankees, so any discussion of them filling a need obviously has to start with big names. 'Tis the way of things.
The big names are the first ones Mike Axisa of River Ave. Blues turned to, and he rattled off the following: Corey Hart, Paul Konerko, Mike Morse, Mark Reynolds, Michael Young and, of course, Alfonso Soriano.
What the first five guys all have in common is that they're free-agents-to-be, which does put them more in trade-bait territory than most.
Hart, Konerko, Morse and Reynolds all have power, and the Yankees could use more of that from the right side, given their mere .365 slugging percentage against southpaws. Young has less power, but he's the kind of veteran who would fit well in pinstripes. He also looks like he's on a mission to prove all his doubters—of which he has many—wrong this year, with a .326 batting average thus far.
There's obviously one problem with these guys, however: They all play for teams that aren't about to wave a white flag just yet. If they are going to hit the block, it's going to be many weeks from now. That's no good for the Yankees, who need help now.
Soriano, as Axisa noted in his write-up, could be had now. The Cubs aren't going anywhere, and it's not much of a secret that they wouldn't mind getting rid of Soriano. Jon Heyman of CBSSports.com reported in December that the Cubs are even willing to eat the majority of his contract.
Soriano's a good fit for the Yankees because he's handling lefties to the tune of a .952 OPS in 2013. He's a bad fit, however, because the Yankees already have a righty-hitting outfielder with power in Vernon Wells. As soon as the Yankees acquired him, the idea of them potentially making a deal for Soriano probably became obsolete right then and there.
So the Yankees can target the big names, but actually getting one at this juncture isn't likely. They're better off focusing their attention elsewhere, such as what's left of the free-agent class.
The Last Remnants of the 2012-2013 Free-Agent Class
The offseason is pretty far off in the rearview mirror by now, but there are still some free agents out there who could just be waiting for a call.
The Yankees could kick the tires on righty-hitting infielders such as Jason Bartlett and Ryan Theriot, though neither of them have the kind of offensive prowess the Yankees need. Bartlett compiled a .626 OPS from 2010 to 2012, and Theriot has a career .691 OPS. He does have a decent career .759 OPS against southpaws, but only with a .393 slugging percentage.
Elsewhere, the Yankees already tried to lure Derrek Lee and/or Chipper Jones out of retirement, but to no avail. They also considered Scott Rolen, according to Jack Curry of the YES Network, but those talks obviously didn't lead anywhere.
Maybe now's the time to give Rolen another shot. He's far from the player he used to be, but he could provide some pop from the right side and good defense at the hot corner.
That's what would make Rolen useful even after Youk's eventual return. The Yankees could just keep Rolen at third while moving Youk over to first base. This arrangement could stick for a while, as the word from Andrew Marchand of ESPNNewYork.com is that Mark Teixeira may not be able to return until June.
Things would get complicated after Teixeira's return, however. Here's Curry again:
Sort of like Soriano, Rolen would be superfluous after Teixeira and others returned from their respective injuries. As interested as the Yankees could be in bringing him aboard, Rolen may prefer to fade further into his pseudo-retirement than to sign up for a stopgap job.
With free-agent options lacking, it's on to the DFA scrapheap…
The Recently DFA'd
Chris Nelson was designated for assignment before the Yankees went and scooped him up. Perhaps they'll go back to the well one more time for another right-handed hitter.
One guy they could go after is old friend Shelley Duncan, who was DFA'd by the Tampa Bay Rays just a couple days ago, as reported by Marc Topkin of the Tampa Bay Times.
Duncan doesn't bring much to the table in terms of defensive versatility, but he does have a powerful bat. The only less-than-bright side is that he's actually been slightly better against right-handers in his career (.727 OPS) than he has been against left-handers (.721 OPS).
The recently DFA'd crowd doesn't feature many other intriguing bats. Unless, of course, you consider guys like Brent Lillibridge and Alberto Gonzalez to have intriguing bats. And I don't know why you would, for they most certainly do not.
Neither does the soon-to-be DFA'd Nick Green. Manny Navarro of the Miami Herald has reported that Green is going to be DFA'd very soon and that he hopes to sign with another team via free agency, but he doesn't bring a whole lot to the table beyond positional versatility.
So instead of DFA'd castoffs, the Yankees are probably better off looking into expendable veterans.
The Expendable Veterans
It's never too early to ask, "Who do the bad teams not really need?"
Right now, this question yields a couple of teams that could be willing to deal because, screw it, they're not going to contend this season, and they know it. These would be the Houston Astros, Miami Marlins and, despite the fact they haven't been that terrible, the Chicago Cubs.
We've already talked about Alfonso Soriano, and the Cubs really don't have much to offer outside of him. It's probably too early to consider Scott Hairston an option, as the Cubs would surely prefer him to start hitting, thus raising his value, before they even think about dealing him.
The Marlins could be willing to part with Placido Polanco, but he's not the kind of guy you associate with the term "right-handed power bat." He's also an aging player who's a walking injury risk, and the Yankees have enough of those.
The Astros are not without veterans who could be trade bait, but two of the more notable players swing from the left side of the plate: Carlos Pena and Rick Ankiel. The Astro who suits the Yankees' needs best is Ronny Cedeno, who can play pretty much anywhere and really hasn't been too shabby a hitter recently.
Since last season, Cedeno owns a .754 OPS that comes complete with a .422 slugging percentage. He's played primarily against lefties this year and compiled a 1.186 OPS. He's batting .323 with an .808 OPS overall, and the Astros could be willing to sell while his stock is high.
Not a very impressive name, to be sure, and a deal for Cedeno certainly wouldn't be of the blockbuster variety.
But these days, that sounds like a typical Yankees transaction.
Note: Stats courtesy of Baseball-Reference.com.
If you want to talk baseball, hit me up on Twitter.
Read more New York Yankees news on BleacherReport.com