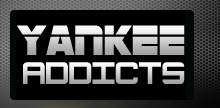 April 26, 2010 · Christopher Chavez · Jump to comments
Article Source: Bleacher Report - New York Yankees
The media has found another reason to rip Alex Rodriguez.
Out of all New York Yankees, A-Rod is the slowest to round the bases after a homerun. The Wall Street Journal recently published its findings after examining the homerun trots from 2009 and through the start of this year.
What did they find? The following is their graph of the average trot times:
A-Rod requires 24.9 seconds to round the bases, while Derek Jeter needs 20.2 seconds. Take a Number determined the statistics by averaging the home-run trots for each 2009 homer. The average homerun trot is 21.89 seconds, according to a study from Marquette University.
Interesting facts on the results:
– Yankees are ranked 12th in the majors.
– The Mets are right behind them by 2/10 of a second.
– Granderson is the Yankees fastest because his home-runs barely leave the yard, so running hard is necessary at all times. The same goes for Jeter.
-A-Rod knows his are leaving, so he takes his time and takes in the moment.
Thank you to The Wall Street Journal for publishing their findings!
Read more New York Yankees news on BleacherReport.com