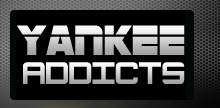 June 13, 2009 · Nick Poust · Jump to comments
Article Source: Bleacher Report - New York Yankees
After suffering a stunning defeat in the battle for New York, the Mets tried their best to put the game behind them. Luis Castillo could not, losing sleep, reliving his botched pop-up over and over again.
The Yankees slept well, relishing in the luckiest of lucky. Yet, their moment of bliss was short lived, as they would soon return to mediocrity. Morning came, and after a night of nightmares, Castillo left the past in the past and focused on the present, determined to avenge his debacle that produced ridicule from far and wide.
The Three Fernandos—Nieve, Tatis, and Martinez—tormented the Yankees. The trio, the first of it's kind in major league history, helped their injury-plagued team bounce back.
Nieve was called up to replace J.J. Putz, who will be out eight to 10 weeks due to elbow surgery. Starting his first game since 2007, the pitcher "handcuffed the Yankees," in the words of Fox's brilliant announcer Joe Buck, making the most of his opportunity.
He's not flashy, he doesn't throw particularly hard, nor is he very deceptive, but he mixed his pitches effectively, inducing groundball after groundball to fluster the Yankees. He was given support by his offense, which allowed him to get comfortable and settle into a groove.
Tatis, taking the place of the injured Carlos Delgado at first base, coaxed a one-out walk from Yankees starting pitcher Andy Pettitte.
Pettitte, New York hoped, would put together a solid start and end a streak of three horrid outings by the pitching staff. He, who can usually be counted on to deliver, could not do so.
The following hitter, Ryan Church, moved Tatis into scoring position with a sacrifice bunt. For catcher Omir Santos, it didn't matter which base Tatis was on, as he shellacked a two-run shot into the wind tunnel that is left-field at Yankees Stadium.
The hits kept on coming. Martinez, the Mets 20-year old outfielder and top prospect, laced one of his three hits to center field, then, Castillo lined a single to left-field. They couldn't lengthen their lead, as the savvy Alex Cora, who will surely be a manager someday, grounded out to end the second inning.
Pettitte, as he has been all year, was hittable, certainly not a good sign for a team desperate to give their bullpen a rest. This would not be the case.
Alex Rodriguez cut the lead in half. His homer, unlike Santos', was significantly aided by the wind, as he got under Nieve's heat and hoisted it high, barely clearing the fence. Nieve wouldn't let this hiccup bug him, as he sent down the next nine of the next ten hitters.
The Mets offense collected two hits in the third inning and one in the fourth, but couldn't capitalize. They did, however, in the fifth inning. This year, Pettitte hasn't been himself. For a majority of his first 13 seasons, he rarely handed out walks, especially consecutively.
Yet, his 14th season has been the polar opposite, as he has walked 32 this season, meaning he's on pace for 91 walks this season, which would be a career-high. Unlike his abnormal walk-totals, his tendency to allow a substaintial amount of hits in nothing new.
For years, he has given up more hits than innings pitched, including a career-high 233 in 204 innings last season. This season, he is on pace for a similar mark, and may surpass it if he keeps having innings like the fifth.
Carlos Beltran started off the frame with a single. This would be a reccuring theme. David Wright, who upped his major league-leading batting average to .365 with two hits, cranked his second into deep left-center field for a double.
Like Beltran and Wright, Gary Sheffield, a former Yankee who was booed periodically, feasted on sliders from Pettitte that didn't slide, tagging the offering into right-field, plating Beltran.
Tatis proceeded to tap a grounder to third, but beat out the potential double-play, scoring Wright. Santos capped off his stellar night at the plate, crushing a rbi-double that evaded the outstretch glove of right-fielder Melky Cabrera, who took a horrible rout to the ball.
Martinez followed with a single, but Santos soured his own performance, as he was caught in a rundown between second and third.
In that inning alone, Pettitte allowed five hits and six men to reach base. His outing was done, relinquishing five runs on a staggering twelve hits. On the bright side, he lasted longer than the three of the past four Yankees starters. On the downside, his lackluster outing resulted in another loss, their fourth in five games.
The Mets tagged New York's paltry relief core for five more hits, finishing with 17. They stranded plenty of runners, but thanks to Nieve's start and their ability to chase Pettitte, Castillo and the rest of the Mets can now enjoy a good night's sleep, proud of their bounce-back performance.