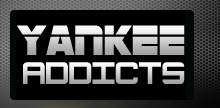 News published by
February 6, 2011
Andy Pettitte, who announced his retirement from baseball on Friday, pitched 15 seasons in the major leagues for the New York Yankees and Houston Astros. With New York, in stints ...
February 1, 2011
In 2003, Mark Prior won 18 games with the Chicago Cubs. That same year, Freddy Garcia won 12 games for the Seattle Mariners, while Bartolo Colon won 15 for the Chicago ...
January 21, 2011
Pitchers and catchers report in 23 days and, to be expected, the pickings on the free-agent market are slim. The biggest news in the past few weeks has been reliever ...
December 15, 2010
After Cliff Lee signed a five-year, $120 million deal with the Philadelphia Phillies late Monday night, Texas Rangers general manager Jon Daniels immediately responded to his decision: "Let's give the ...
December 14, 2010
As The New York Times' Ben Shpigel wrote two days ago, a 26-year-old pitcher by the name of Greg Maddux received a lucrative contract offer from the New York Yankees ...
November 27, 2010
Half a dozen teams are interested in free-agent ace left-hander Cliff Lee. Three are known—the New York Yankees, Texas Rangers and Washington Nationals—while the other three are left to speculation. Lee, ...
November 19, 2010
Wins aren't all that matter when it comes to pitching. Felix Hernandez of the Seattle Mariners had 13 this past season, eight less than the New York Yankees' CC Sabathia. ...
November 8, 2010
Jayson Werth isn't worth the Red Sox time. "Jayson Werth on Boston Red Sox radar" was the ESPN article's headline. The same reaction was produced when Boston expressed interested in signing ...
October 22, 2010
It is hard to fathom a better ending. Former Texas Ranger Alex Rodriguez, who once signed for a quarter of a billion dollars and juiced with the team, was at the ...
October 20, 2010
When Texas Rangers catcher and eighth-place hitter Bengie Molina turned on an inside pitch from New York Yankees starting pitcher A.J Burnett in the sixth inning, all Alex ...