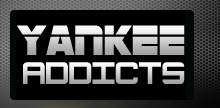 October 20, 2010 · Nick Poust · Jump to comments
Article Source: Bleacher Report - New York Yankees
When Texas Rangers catcher and eighth-place hitter Bengie Molina turned on an inside pitch from New York Yankees starting pitcher A.J Burnett in the sixth inning, all Alex Rodriguez could do was hang his head.
Catcher Francisco Cervelli was similarly dismayed, and Burnett was also in disbelief, with a "What have I done?" reaction.
Molina and his teammates in the dugout watched the ball's flight, a majestic curvature into the left field seats, and after taking the few minutes necessary to run the bases, Molina pumped his chest and yelped a jubilant cry as high fives awaited him in the dugout.
The three-run blast with two outs gave the Rangers a 5-3 lead and capped off a nightmarish half-hour of baseball for New York.
In the fifth inning, everything appeared to be in the Yankees' favor. Burnett had thrown five solid innings, and New York, ahead by one, was threatening with two on and none out. Mark Teixeira was up, their struggling power hitter who has made up for his misgivings at the plate with stellar defense at first.
On a 2-1 pitch from a laboring Tommy Hunter, he grounded a ball to Michael Young at third, who stepped on the bag and fired to first. Teixeira sprinted down the line as the ball closed in on Mitch Moreland's glove, but then not 10 feet from the bag he reached for his hamstring. He fell into a slide, yelping in pain.
Accompanied by the team doctor and manager Joe Girardi, he hobbled off the field. Yankees Stadium was silent, as they would remain for most of the final four-plus innings.
Though he was safe, and though the Yankees were putting together quite a promising inning with two on and one out, the life was sucked out of the stadium when he went down. A strained hamstring was later the prognosis, and New York is considering adding Eduardo Nuñez to the roster, thereby making Teixeira ineligible to return, not only in this series, but also in the World Series if they advance.
Texas added insult to this injury just by putting runners on against Burnett in the sixth. The crowd groaned; the little confidence they had in Burnett was fading. Vladimir Guerrero led off with a single but was erased on a force-out grounded into by Nelson Cruz. Cruz made amends, changing the game with one play that will most likely be under-appreciated in some recaps.
Ian Kinsler lifted a deep fly ball to center, and what does Cruz do? The 6'4″, 240-pound, deceptively quick right fielder (who was the victim of Jeffrey Maier-esque interference in the second inning) tagged up and headed to second. This forced an odd decision out of Girardi, who elected to intentionally walk Burnett's nemesis, David Murphy, to pitch to Molina. The move clearly backfired.
Derek Holland, the Rangers' prized 24-year-old left-hander who had relieved Hunter much earlier, proceeded to add to the Yankees' misery by pitching two scoreless innings. Despite his excellence and the depressing atmosphere, New York still had a shot to come back. Their chances, though, were hurt severely by a case of déjà vu for their bullpen.
Last night, the Rangers broke a two-run game wide-open in the ninth by scoring six runs, five of which were charged to David Robertson. On this night, Robertson was the only Yankee reliever not to allow a run.
Before Holland pitched his second straight perfect inning, Josh Hamilton continued his ALCS brilliance. Their best power hitter, who managed to swing weakly in Game 3 and still hit it out to right, put together a much more powerful swing against Boone Logan, a high drive that landed a few rows up in the same vicinity.
It was his third blast of the series, it darkened the Yankees' outlook and it wasn't even close to being the final run Texas would muster.
Joba Chamberlain, who may not be with the team next year given his performance this season, followed Logan and continued to pitch ineffectively. His outing began by allowing a ringing double by Guerrero, and then he walked Cruz and let the seventh Rangers run score as Michael Young proceeded to single. The boo birds were out. Some fans had already left. Others were now joining them in the streets of New York.
Texas just wouldn't quit. After escaping a tough bases-loaded, one-out situation in the bottom of the eighth, their bats made the Yankees pay for not coming through as they did in the same inning of Game 1.
Hamilton was once again in the middle of it, smacking his fourth homer of the series, this time off Sergio Mitre and this time into the bullpen in right—his fourth homer in as many games. Then, after Guerrero socked his third hit, Cruz crushed a lifeless fastball into the second deck in left. It was now 10-3. The couple thousand fans who were left could go home now.
The Yankees players may join them soon enough. In losing, New York fell behind 3-1 in this series; they need to win their next three to move on. But just like a miracle is needed for Teixeira to return, the Bronx Bombers need a miracle if they want to prolong this one-sided battle—and just as Teixeira's immediate future is in doubt, so are New York's chances of accomplishing their yearly expectation.
Read more New York Yankees news on BleacherReport.com