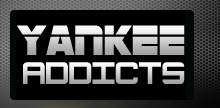 November 8, 2010 · Nick Poust · Jump to comments
Article Source: Bleacher Report - New York Yankees
"Jayson Werth on Boston Red Sox radar" was the ESPN article's headline. The same reaction was produced when Boston expressed interested in signing J.D. Drew, their current right fielder and oft-injured underachiever.
The Red Sox should have learned two years into the five-year, $70 million contract they gave Drew in 2007 that he was a mistake.
He was a solid player before his arrival, there was no doubting that, but money was thrown at him in so nonchalantly, as if it didn't enter management's thought process the dollar figure may have been a bit steep.
But Boston has the money to do that, as the New York Yankees do on a greater scale, and it seems they are willing to open up their wallet once more and create a potentially regrettable size hole in its leather.
Werth is a good player. But, like Drew at the time of his signing, he isn't great. He's been thought of by many as the best right-handed hitter in baseball.
That is ludicrous.
The 31-year old had a career year in 2010, socking 46 doubles and 27 homers, while batting .296 with a .388 on-base percentage. Werth, a right-handed hitter, hit .300 against right-handed pitchers. He has a short, compact swing that is built for contact, but he struck out 147 times, so plate-discipline isn't his strength.
Philadelphia Phillies General Manager Ruben Amaro expressed his desire to bring Werth back, barring an astronomical price-tag. Werth evidently would love to return to Philadelphia, citing how tight-knit the clubhouse is as his reasoning.
He fits in the middle of that lineup. He was an integral part of their success. But though Amaro said his 2010 campaign was stellar, he admitted it wasn't extraordinary nor worthy of labeling him a franchise player.
Despite his excellent overall production Werth batted a measly .186 with runners in scoring position, down from his mark of .279 the year before.
In 2009, Werth drove in 13 more runs and hit nine more homers. Yet, his drastic improvement in every other category is eerily similar to that of Adrian Beltre in his final year with the Dodgers in 2004.
Beltre, now 31 and now a free agent in his own right, hit 48 home-runs, drove in 121 runs, knocked out 200 hits, and batted .334. The following season, after getting a five-year, $64 million contract out of the Seattle Mariners, the third baseman played in the same amount of games but hit just 18 home runs, drove in 34 less runs, had 46 fewer hits, and his batting average plummeted to .255.
He proceeded to stink the next four years as well. Boston then signed him to a one-year deal. What does he do? He hits .321, crushes 28 homers, and drives in 102 runs.
He has hit over .300 twice in his career. He has hit more than 26 homers twice in his career. He has driven in over 100 runs twice in his career. Those two times? His walk years.
Werth would be switching leagues as Beltre did. Granted, he would be entering hitter-friendly Fenway Park, But though Beltre's first walk-year was far more ridiculous, there is a definitive similarity between the two.
164 million dollars in annual salary is due to 16 Phillies this upcoming season, and though they still have enough payroll flexibility to retain Werth at a manageable price, Amaro doesn't seem to warm to the idea of keeping him in the City of Brotherly Love.
He cited the team's increasing age—the Phillies average age this past season was 31.9. What was the Boston Red Sox? 29.3, and that number would only increase with Werth in the fold.
He's a versatile outfielder. He would put up some solid numbers in Boston, and there is the Scott Boras connection—the uber-agent who has represented his fair share of Red Sox through the years.
The same agent who negotiated the deal one J.D. Drew received.
Who should Boston be targeting instead of Werth? Look no further than Carl Crawford.
He doesn't have the power of Werth, but he's perhaps the fastest player in baseball, steals bases, is a hitting machine and plays an excellent left field. The 29-year old hit .290 last season with the Tampa Bay Rays, hit 19 homers, drove in 90 runs, and stole 47 bases.
He would give the Red Sox speed they have been lacking and form a dynamic one-two punch atop their lineup alongside Jacoby Ellsbury. Have they contacted him yet? No, but I sure hope they do.
Meanwhile, the New York Yankees are prepared to "overpay" in order to re-sign Derek Jeter, their franchise player and declining shortstop.
He struggled at the plate this past season and in the field, but he's meant to be in pinstripes. Hal Steinbrenner scared the fan base by saying the Yankees would only bring him back on their terms, but he and others in management are now reportedly ready to fork over $45-60 million over three years. Saying the amount is a overpayment can't sit well with Jeter, but there is no other team Jeter should be with.
As Ken Rosenthal of FOX Sports wrote Friday, "Jeter is still Jeter, the Yankees are still the Yankees and no other team will be a factor."
Top free-agent starting pitcher Cliff Lee, through agent Darek Braunecker, is in no hurry to sign this offseason.
The Yankees called Braunbecker at 12:01 am—the first minute of free agency. There will be plenty of suitors for the 32-year old and it really could come down to years. Some think he can get seven, which is remarkable, and it is widely believed he is looking for the money current Yankee and good friend CC Sabathia received two years ago, meaning upwards of $160 million.
"When the time is right, when we get the right deal, we will act," Braunecker said.
Read more New York Yankees news on BleacherReport.com