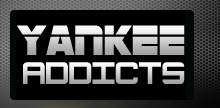 April 26, 2009 · Nick Poust · Jump to comments
Article Source: Bleacher Report - New York Yankees
New York Yankees second baseman Robinson Cano was having a field day.
He had four RBI through the first four innings, torching Josh Beckett and the Boston Red Sox en route to a commanding six-run lead. While Beckett struggled, Yankees starting pitcher A.J. Burnett breezed through the first three innings, allowing just two baserunners. That's when the wheels fell of New York's train.
Boston second baseman Dustin Pedroia patiently drew a leadoff walk. It was Burnett's second free pass handed out, and at the worst of times.
Holding such a lead, the last thing manager Joe Girardi wanted one of his star pitchers to do was give the Red Sox life. After David Ortiz fouled out—continuing his struggles to begin the season—three straight hitters reached, including Jason Bay, who drove in Pedroia with a RBI-single. Mike Lowell proceeded to strikeout, his second of three in the game.
Burnett pitched extremely well in his first three starts of the season, relinquishing seven runs in 19 2/3 innings, leading to a 2-0 record.
Contrary to his performance in the opening three innings, his sparkling statistics would not continue. Yet, despite his hiccups in the third, he had a great opportunity to get out of the inning.
Jason Varitek, who has vastly improved after a woeful 2008 season, strode to the plate.
Burnett tried to sneak a first-pitch fastball past Varitek, but to no avail. Boston's captain crushed the offering over the Green Monster. All the sudden, the Yankees lead was just one.
Beckett settled down at the most opportune time. He did what Burnett could not do, and quickly disposed of New York in the top of the fifth inning. It was his only perfect inning. His offense capitalized.
Their vastly improved leadoff, hitter Jacoby Ellsbury, socked his first home run of the season on an offspeed pitch with, something he struggled to do all last season.
Pedroia followed with a single and Ortiz with a double. The Red Sox, having tied the game, were in business to break the game open. Kevin Youkilis, the hero in the first game of the series, kept the rally going, taking a 2-2, 96 MPH fastball right in the side to load the bases.
J.D. Drew, the next hitter who's off to one of the better starts on the team, quelled the attempt to take the lead, weakly grounding a ball to first baseman Mark Teixiera, who got the force out at home of Pedroia, then completed the double-play by catching the return throw. Still, Burnett had one more out to get. It would not come before Jason Bay nailed a two-run single high off the Green Monster that gave Boston the lead.
The Yankees did not collapse so much as much as the Red Sox woke up.
Burnett wasn't hitting his spots, and even when he was, Boston turned on his pitches and hammered them, leading to hit after hit and run after run.
Though the Red Sox offense was overpowering, Beckett didn't take advantage. It would seem a pitcher, especially of Beckett's stature, would calm, given the lead he was staked entering the top of the sixth inning.
Yet, if Burnett can implode with a satisfactory lead, so too can Beckett. He walked the first batter, Derek Jeter, then allowed a two-run homer to Johnny Damon, the last hitter he would face.
Nothing good, save for his 1-2-3 fifth inning, could be taken out of an outing in which he gave up eight runs on ten hits and walked four to increase his ERA to an even—and horrible—6.00.
Boston's lead was intact, despite Beckett's paltry pitching display. They lengthened it once shortstop Nick Green scurried home before Pedroia was tagged out at second base. The Red Sox needed the run, since Pedroia was handcuffed on a groundball by Damon that scored two runs for the Yankees.
Boston answered.
Lowell made New York pay for walking Bay intentionally, clubbing a three-run homer to break the game wide open. Finally, the Red Sox could breathe easy. For good measure, Lowell drove in three more runs with a double in the eighth inning. After a wild back-and-forth battle, Boston would prove victorious.
It was their ninth win in a row and second straight against the Yankees. It was an unbelievable comeback, but not an admiration. They won't want to be in this position many more times, having to bail out a starting pitcher, but it's uplifting to see that they can, especially against a bitter arch-rival.