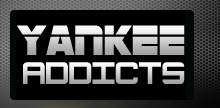 May 31, 2013 · Jason Catania · Jump to comments
Article Source: Bleacher Report - New York Yankees
In New York, the Yankees' temperature gets taken on every day that ends with a "y."
But this Friday, as the Yanks prepare to do battle with the AL East-leading Boston Red Sox following a how-did-that-happen four-game sweep by the Mets, the reading on the thermometer is higher than it's been so far in 2013.
The Yanks have fallen out of first place and two games back of the Red Sox by losing five straight and seven of their past nine. In those seven L's, the offense has been the primary culprit, scoring all of 15 runs. Heck, even the infallible Mariano Rivera proved he can, on occasion, be fallible.
The good news, though, is that reinforcements are coming at a time when they're needed.
First baseman Mark Teixeira and third baseman Kevin Youkilis are set to return Friday, which could be a boost to the slumping lineup.
Even though the club is once again sans outfielder Curtis Granderson's big bat after another hit-by-pitch injury, and there's still no Derek Jeter or Alex Rodriguez (hey, remember them?), the Yanks are slowly and somewhat surely getting healthy.
Beyond the hitters, righty reliever Joba Chamberlain is already back and looked good in his appearance against the Mets. Meanwhile, veteran lefty Andy Pettitte is due to come off the disabled list and start Monday against the Cleveland Indians.
But let's not get ahead of ourselves. This is about the Yankees' upcoming weekend, their current five-game losing streak and, of course, facing the Red Sox.
What's fitting about this three-game set, the first time these two teams will face off since the very first games of the year, is that it comes at such a key point in the season—for both clubs.
Think back to the opening series of 2013 for a minute. The Red Sox came to town and took two of three against a Yankees team that everyone expected to fall toward the bottom of the division because of all the injuries and a quiet offseason.
Except they haven't.
The mere fact that the Yankees are where they are—30-23 and in a playoff spot at the moment—is rather remarkable. Expectations entering April were much lower than they are now, which is both good and bad. The Yanks are in good shape, yes, but because they are, there's more on the line.
In light of their current losing streak, it's easy to lose sight of what has been, to this point, an overwhelmingly—and surprisingly—successful season.
Same goes for Boston, which didn't exactly have the highest of hopes heading into the year following a dreadful last-place finish in 2012.
The Sox, though, have been right there with the Yankees all season, and they've certainly been better lately. While the Yanks have started to show some cracks in their past nine contests, Boston has gone 6-3, including an impressive series win over the better-than-everybody-realized Cleveland Indians last weekend.
As for this weekend, the matchups on the mound will be a major factor. The Yankees have their top three lined up—CC Sabathia, Phil Hughes and Hiroki Kuroda—which simultaneously gives them their best chance to win and puts even more pressure on the team to prevent a stumble from turning into a tailspin.
It's hard to top the Friday night showdown between ace lefties Jon Lester and Sabathia.
With Teixeira and Youkilis in tow, the Yanks offense will get a big test right away, as Lester is 6-1 with a 3.34 ERA.
Sabathia, meanwhile, has been struggling through arguably his worst stretch as a Yankee, and he knows it, as he recently told David Waldstein of the New York Times: "I'm hurting the team. I'm not helping the team out. I just need to get better."
The burly lefty, who's learning to pitch with decreased velocity, hasn't won since April 27—more than a month—and has posted a 4.85 ERA with a 1.48 WHIP to this point in May.
As much as Hughes, who faces Felix Doubront on Saturday, and Kuroda, who opposes Clay Buchholz Sunday, are important this weekend, the tenor of the series is likely to be determined by what Sabathia shows on Friday.
Of course, if the slightly healthier offense can make life easier by scoring some runs, that wouldn't hurt.
So, are the Yankees the team that got off to a hot start, fueled by out-of-nowhere performances from the likes of Vernon Wells, Lyle Overbay, Travis Hafner and David Phelps? Or is this a team that's losing steam on the way down after being exposed and embarrassed by the crosstown Mets?
A win Friday would be a good start toward preventing the latter, and a series win would just about return the state of things to the former.
On the other hand, a sixth straight loss Friday, never mind a series loss, and the Bronx would go from boiling to burning.
Either way, that thermometer is going to be busy.
Read more New York Yankees news on BleacherReport.com