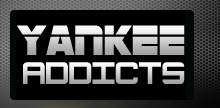 News published by
April 23, 2015
After nearly 20 years of going with a single closer, the New York Yankees, of all teams, don't have one in 2015. At least, not officially. What in the name of ...
April 2, 2015
A number of hot topics have since taken over Major League Baseball's headlines more recently, including Kris Bryant's demotion, Josh Hamilton's relapse, season-ending injuries to Yu Darvish, Zack Wheeler and ...
March 24, 2015
Not long ago, second base for the New York Yankees was as stable, consistent and productive as any position on any team in Major League Baseball. These days, it's anything ...
January 29, 2015
Don't look now, but the New York Yankees have behaved a little differently this winter. Actually, they've behaved exactly how they said they would. At the outset of the offseason, general ...
January 21, 2015
The six-man rotation is sort of like the Bigfoot or Loch Ness Monster of Major League Baseball. It's talked about but doesn't really exist. But unlike Sasquatch or Nessy, a baseball ...
December 24, 2014
There's fewer than 60 days until pitchers and catchers report, which means there's less than two months until the Alex Rodriguez circus begins again for the New York Yankees. It's been ...
December 23, 2014
The New York Yankees need Yoan Moncada, the next Cuban sensation readying to make his way to Major League Baseball. And they need him for oh-so-many reasons. Moncada, in case you ...
December 18, 2014
For almost two decades, the New York Yankees making the playoffs was more or less a given. That's a reputation and an expectation that materializes when, from 1995 through 2012, ...
December 3, 2014
It's hard to get a handle on the New York Yankees' intentions this offseason. They apparently want to avoid spending major money for a second straight winter, while at ...
November 21, 2014
In many ways, for many reasons, the New York Yankees trading for Troy Tulowitzki makes sense. After all, they're the major-market, deep-pocketed, All-Star-obtaining Yankees, and in 2015, they'll be embarking ...