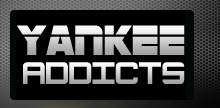 February 26, 2010 · Bronx Baseball Daily · Jump to comments
Article Source: Bleacher Report - New York Yankees
The Yankees are starting the 2010 season with only two locks in their outfield ,and a long list of outfielders—many of which will not make the Bronx roster, and instead will be in Scranton.
The locks are Nick Swisher in right and Curtis Granderson in center, or maybe left. After that it is anyone's guess.
Brett Gardner seems like the favorite to be the third outfielder. Brian Cashman has said that it's possible Garnder could be the starting center fielder, but they traded for Granderson to roam that position and they're not going to take his job away from him for a guy they aren't even sure is even going to play everyday. They are keeping an open mind about the situation, though.
If Gardner isn't going to be a starter, the left field job is most likely going to go to Randy Winn , who can also play all three outfield positions as the backup. That leaves Marcus Thames as a bat off the bench who could also get starts against tough lefties.
The Yankees have other options, but they aren't as likely to start the season in the Bronx unless there is an injury or two. Those outfielders include Jamie Hoffmann , Greg Golson , Colin Curtis , Reid Gorecki , David Winfree , and Jon Weber .
But how do those outfielders rank? Let's say this is 2006 all over again and two outfielders go down with extended injuries, at least temporarily they would have to rely on one or more of these players.
Jamie Hoffmann —Hoffmann is interesting because the Yankees got him as part of the Rule 5 draft. That means if he doesn't make the roster out of spring training and stay with the team all season long the Yankees have to offer him back to the Dodgers. This does give him a slight edge to make the team out of spring training. But if he does play on the Yankees this season it'll probably be because they worked out a deal with the Dodgers to keep him, maybe they could send somebody like Kei Igawa to the West Coast in exchange. Even if it weren't for these unique circumstances Hoffmann would still be on top of this list for his speed, strong defense, and ability to hit lefties so well.
Colin Curtis —One look at Curtis' numbers and some question his prospect status, but while his numbers might not be overwhelming, he does have strong tools. The thing is, he's got all the tools, it's just that none of them stand out. He's strong defensively, but not the best. He's quick, but nowhere near Gardner's speed. He's got some pop, but nobody has said he's going to ever hit 30 home runs. He might even be able to hit a little, but he probably won't be a .300 hitter at any level. But the fact remains, that while none of his tools may be outstanding, he does have them all, and only Golson's spot on the 40-man roster is going to keep him from being the first one called up.
Greg Golson —While I like Curtis more than Golson, Golson does have an edge which is, like I said, the fact that he's already on the Yankees 40-man roster. That means that you can expect to see him in the Bronx at some point in 2010, especially if Hoffmann doesn't stick around. Golson's got speed and strong defense going for him though, and that was good enough for Freddy Guzman to make it to the Bronx a year ago. Girardi seems to like these types. I don't know when, but he could be around sometime, if only as a September call-up.
David Winfree —Winfree's minor league numbers are not as good as Gorecki or Weber (.270/.318/.442/.760 in seven seasons), but the biggest advantage he has over them is age. As a 24-year-old I think it's fair to classify him as a prospect still, but he's going to need to keep improving to have a chance at sticking on the major league roster at any point. His strongest tool is his power, but unless he can improve his patience at the plate he's going to be more help to Scranton than the Bronx.
Reid Gorecki —Gorecki, a 29-year-old from Queens, isn't exactly a prospect anymore, but he is going to be a big contributor to Scranton. His career line in the minors is .268/.342/.428/.770. It's hard to say if he really has an advantage over Jon Weber to get called up to the Bronx if they needed to dig this deep.
Jon Weber —Weber is a 32-year-old career minor leaguer. His line is .288/.365/.470/.835; not bad, but not good enough to get a real shot at the major leagues. His best chance was probably in 2004 when he was with the A's and put up a .951 OPS in 19 games at triple-A, but since then it's probably been a combination of being too old and inconsistent to get a real shot. Weber will be right there along with Kei Igawa to make sure the Scranton Yankees have another strong season in 2010, but don't expect him to help out in the Bronx much if at all.
Thoughts : Since trading Austin Jackson, the Yankees have no real outfield depth to speak of. Any of these player could fill in for an injured player in an emergency and one or two of them might even stick as a major league forth outfielder eventually. None of them have any chance at being a starter on the Yankees for a prolonged period of time however.
Hoffmann may be the only one who could eventually be a major league starter, and even that is no sure thing.
Related Stories
Read more New York Yankees news on BleacherReport.com