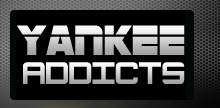 February 9, 2010 · Bronx Baseball Daily · Jump to comments
Article Source: Bleacher Report - New York Yankees
The Yankees officially announced the signing of outfielder Randy Winn yesterday. The deal has a $1.1 million base salary plus incentives instead of the $2 million deal that had been reported since his signing.
When the deal was believed to be in the $2 million range, people were upset because another outfielder the Yankees had been targeting, Reed Johnson, signed with the Dodgers for less than half of that—$800,000 plus incentives. On top of the money issue, there was also the fact that the Yankees were supposedly looking for a right-handed hitter to balance out left-handed outfielders Curtis Granderson and Brett Gardner. Winn paled in comparison to Johnson and was coming off a terrible year against lefties.
Apparently, the Yankees understood those concerns. Not only was the contract actually much closer to Johnson's than people initially believed, they could actually end up making almost the exact same amount of money, but the Yankees made sure that Winn was motivated to hit lefties. His incentives all come against left-handed pitching.
Joel Sherman of the Post explains:
"Winn's contract is for $1.1 million guaranteed. He can then earn an additional $900,000 by reaching various plate appearance levels starting at 50 and ending at 200 against lefty pitching.
In other words, if he earns playing time against lefties, he will make as much as $2 million. This essentially is Winn gambling on himself that last year was an aberration and the Yankees protecting themselves a bit in case it wasn't."
This is where Marcus Thames comes in. Thames signed a one-year minor league deal for $900,000—the exact same amount as Winn's incentives. Coincidence? Maybe not. I'm starting to believe that the Yankees will use spring training to see exactly what they have in Jamie Hoffmann, Winn and Thames.
If they like Winn against lefties and plan on using him in a way where he'll reach all of his incentives, they could then send Thames down or release him and stick with Hoffmann. That way they're paying off only $2 million plus the major league minimum for Hoffmann. Or, if Winn isn't overly impressive, they keep him as a defensive caddy and stick with Thames, and they're still paying out the same $2 million.
Either way, they're only paying $2 million if Winn hits lefties. I think it was a smart move by GM Brian Cashman. It reveals more of why they went with Winn, especially when you throw in the fact that Johnson has had issues with his back that have landed him on the DL.
Where do you stand? Knowing now that Winn actually has a smaller base salary and his incentives come purely against left-handed pitching, do you like the deal more? Less?
Related Stories
Read more New York Yankees news on BleacherReport.com