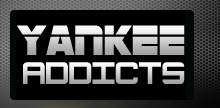 February 27, 2013 · Doug Mead · Jump to comments
Article Source: Bleacher Report - New York Yankees
New York Yankees reliever Joba Chamberlain was asked a seemingly innocuous question on Tuesday following his one-inning outing against the Philadelphia Phillies in a Grapefruit League game.
His answer sparked a series of sarcastic comments and created fodder for the local papers.
Chamberlain worked a relatively clean fourth inning against the Phillies, striking out both Ben Revere and Kevin Frandsen before giving up a single to Ryan Howard. Michael Young grounded out to end the inning.
After the game, Chamberlain was asked if he would someday like to close games.
Chamberlain's response is what sparked the resulting debates and sarcasm.
Via Newsday.com:
"At some point, yeah," Chamberlain said. "This is probably going to spark a bunch of stuff but it's one of those things where it's like, do you think you have the capability of starting? Yes. Do I have four pitches that I can throw for a strike? Yes. Do I have two plus-pitches in the bullpen that I can throw at any time? Yes. So I guess I'm trying to have my cake and eat it, too, because I feel I'm good enough to do both. I've proved that I can do both.

"I've been in the bullpen a while but am I confident that if I got a chance to start again somewhere, wherever that's at, do I think I could do it? Without a doubt."
Yankees manager Joe Girardi and general manager Brian Cashman responded with comments of their own when asked about what Chamberlain said.
"First I've heard of it," Girardi said. "I'd like to catch one more game, too."
Cashman was also not enamored with the idea.
"We're down an outfield bat right now, too," Cashman said. "We'll see if he can play center or not."
Obviously, their tongue-in-cheek responses gives the impression that transitioning Chamberlain back to the starting rotation is simply not an option.
But is it really that far-fetched of an idea?
Here are some pros and cons.