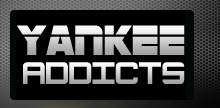 News published by
September 12, 2013
New York Yankees left fielder Alfonso Soriano has made his mark in the Bronx with his bat, belting 15 home runs with 47 RBI in just 45 games since his ...
September 6, 2013
They had them right where they wanted them. Well, sort of. The New York Yankees suffered a heartbreaking 9-8 loss at the hands of the Boston Red Sox on Thursday, dealing a ...
July 16, 2013
New York Yankees closer Mariano Rivera will be participating in his 13th and final MLB All-Star Game on Tuesday, and his American League teammates paid homage to him in fitting ...
June 19, 2013
Tuesday was not a very good day for the New York Yankees, and for general manager Brian Cashman.First, they learned that first baseman Mark Teixeira—who missed the first two months ...
May 31, 2013
Heading into Friday night's game with the Boston Red Sox, New York Yankees starting pitcher CC Sabathia hadn't logged a victory in the entire month of May.In fact, after he ...
February 27, 2013
New York Yankees reliever Joba Chamberlain was asked a seemingly innocuous question on Tuesday following his one-inning outing against the Philadelphia Phillies in a Grapefruit League game.His answer sparked a ...
October 15, 2012
The New York Yankees have put themselves about as far behind the 8-ball as one can be following two consecutive losses to the Detroit Tigers at Yankee Stadium in the ...
September 12, 2012
While this year's crop of free agents doesn't quite have the marquee-style names that adorned last year's free-agent list, there are some players of intrigue that will draw considerable interest—most ...
August 14, 2012
The New York Yankees and Boston Red Sox have met a total of 2,109 times during their storied rivalry that dates back to 1901. In spite of the heated nature ...
February 10, 2012
New York Yankees starting pitcher A.J. Burnett's experience in the Big Apple appears to have run its course.According to Jon Heyman of CBSSports.com, the Yankees and Pittsburgh Pirates are currently ...