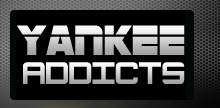 February 10, 2012 · Doug Mead · Jump to comments
Article Source: Bleacher Report - New York Yankees
New York Yankees starting pitcher A.J. Burnett's experience in the Big Apple appears to have run its course.
According to Jon Heyman of CBSSports.com, the Yankees and Pittsburgh Pirates are currently mired in negotiations that would have the Yankees shipping Burnett and a considerable wad of cash to the Steel City.
Apparently, Yankees GM Brian Cashman has finally seen the light. Just nine days ago, Cashman told a crowd at Sacred Heart University in Connecticut that he was comfortable with Burnett in his starting rotation.
"I am comfortable with A.J.," Cashman said. "He's extremely talented and has been inconsistent, but I can tell you I'm comfortable with the effort he's giving, I'm comfortable with everything that he does, the accountability that comes with him. Obviously, we signed him to have more success than he's having, but it's a competitive industry and as long as he's not going to give up on himself, then I'm going to have his back the entire way."
Well, now, it seems that Cashman's comfort level wore thin extremely quickly.
Within days of Cashman uttering that statement, the rumor mill was awash with possible landing spots for Burnett, and it now appears that the Pirates will be the likely winners.
Does it make sense for Cashman to unload Burnett at this point? Here are some reasons why it absolutely makes sense to deal Burnett while the iron's hot.