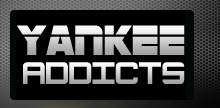 October 17, 2011 · Michael Moraitis · Jump to comments
Article Source: Bleacher Report - New York Yankees
It's incredible to see that it's become a common thought that the New York Yankees should pursue Prince Fielder. Yankees Universe is downright giddy at the prospect of having the lefty slugger playing for their team in 2012. Being a Yankee fan, I am forced to admit that signing Fielder would be complete overkill.
We all know the Yankees ridiculous payroll numbers and the fact that they're not afraid to use it. That being said, where do you draw the line between rational and excessive?
The Yankees first focus should be on pitching and pitching only. They need to add another starter and can't shoot themselves in the foot by spending all their money on more offense.
If the Yankees were to add Fielder, they would be bringing in a guy who could possibly hit 50 home runs with the short porch in right field at Yankee Stadium. It would be an insane prospect to think of Fielder in a lineup currently littered with All-Star and Hall of Famers.
The Yankees had no shortage of offense last season, finishing second in the MLB in runs with 12 more home runs (222) than any other team in baseball.
It certainly isn't offense they need.
Many people will point to the Yankees offense and say that was the cause of their demise in 2011, but looking more closely, it was situational hitting in the playoffs that led to their downfall. There's no guarantee that Fielder's 2011 postseason average of .237 will be much of a help in those clutch-hit situations.
In looking at playoff success, it's the teams that pitch the best that will make it the furthest. If there's one thing the Yankees have proven, it's that offense alone doesn't win championships. You can add as many home runs and RBIs as you want, that doesn't mean it will translate into runs in the postseason.
If you think about it, where would Fielder even play? Is he going to be satisfied playing DH the majority of his career? Mark Teixeira, the current first baseman, is way too good defensively to be platooning with the hefty Fielder.
Fielder is only 27 and it's doubtful he'll be happy sitting in the dugout as DH for the majority of his time in pinstripes.
I also shutter to think what a combination of Fielder and CC Sabathia would do to the food supply in New York.
You don't always need to add the best player available, every year you don't win. If you want to think slightly more normal, how about David Ortiz for a year or two. There's a guy who won't garner anywhere close to the amount of money Fielder will and has experience with getting big hits in big playoff spots.
And he is already a full-time DH. Ortiz would be a perfect and more importantly a sane replacement for Jorge Posada. On top of that, he would be about the same amount of money as Posada, with twice the production, not triple.
If not Ortiz, then the Yankees could look in-house to rookie Jesus Montero, who could split time between DH and backup catcher. Not to mention, the Yankees have several aging stars who could be slotted in at DH when they need a half-day off.
Now I wouldn't know if Fielder is also in the plans of GM Brian Cashman and upper management. There is no question that Yankees fans out there are making a place for Fielder in the Bronx, but I'd be shocked if it happened.
For once, Yankees fans, let's exercise some restraint in free agency.
@michaelmoraitis
Read more New York Yankees news on BleacherReport.com