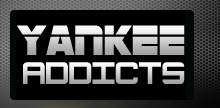 December 26, 2012 · Zachary D. Rymer · Jump to comments
Article Source: Bleacher Report - New York Yankees
We're now a couple months into Major League Baseball's offseason, but the question for New York Yankees general manager Brian Cashman is the same as it ever was.
What's next?
The answer would appear to be something along the lines of, "Not much, really." Cashman hasn't made any earth-shattering moves, but he has rounded out the Yankees' depth chart and escalated the club's 2013 payroll to its usual height.
As of this moment, the Yankees have about $189.5 million in salaries committed for the 2013 season. Once arbitration costs and other such things are factored in, Baseball-Reference.com projects that the club's payroll is going to once again be over $200 million.
Given the moves Cashman has already made, the amount of money he's already spent and the directive from ownership to get ready for a low (OK fine, lower) payroll in 2014, Cashman and his underlings in the Yankees front office are likely to be quiet from now until pitchers and catchers report.
You are certainly free to hope that there are big moves still to come on Cashman's offseason check list. But in reality, you can expect him to spend the next few weeks patching up mere minor leaks.
Such as…
Phase 1: Acquire Righty-Hitting Outfielder
As far as starters go, the Yankees' 2013 outfield is all set. Brett Gardner will play left field, Curtis Granderson will play center field and Ichiro Suzuki will be in right field.
However, the club's outfield isn't perfect. Its troubles are twofold in that it's too thick with lefties and not quite deep enough.
Jon Heyman of CBSSports.com reported a couple days ago that the Yankees are looking to fix this problem by picking up a righty-hitting outfielder on either the trade or free-agent market:
#yankees looking for righthanded hitters. Among options are vernon wells, scott hairston and jeff baker. Plus #others

— Jon Heyman (@JonHeymanCBS) December 22, 2012
The word from Mark Feinsand of the New York Daily News is that Hairston is the team's top preference, which makes sense. He can play all three outfield spots, and he's coming off a strong season with the New York Mets that saw him post an .803 OPS and hit 20 home runs.
However, Hairston may not be a realistic option. They would presumably rather not give him a multi-year deal out of fear for their 2014 plans, and they may have to overpay him to coax him into taking a job as a fourth outfielder rather than as a starter.
A trade for Wells would also require a two-year commitment. The Yankees could go for him so long as the Los Angeles Angels agree to pay the vast majority of the $42 million still owed to Wells, but they'd want something significant in return if they were to do that. That could turn the Yankees away.
Considering these things, the most logical expectation is for Cashman to end up finding a mere one-year solution for this particular dilemma. Baker would work, and Feinsand likes Matt Diaz as an option due to his history against left-handed pitchers.
We're not exactly bandying about the names of All-Stars here, to be sure. But in a world where the the free-agent market has dried up and the Yankees are short on trade trips and looking to go cheap, this is how it is.
The same realities will impact the club's search for arms as well…
Phase 2: Add to Starting Rotation Depth
Say what you will about the club's lineup looking like a sorry excuse for a traditional Yankees lineup, but the starting rotation Cashman has lined up for 2013 is nothing to scoff at.
CC Sabathia is as steady as they come at the top, and he's followed by two very able veterans in Hiroki Kuroda and Andy Pettitte. Phil Hughes could have a big year with free agency awaiting him next winter, and Ivan Nova is good enough to be a No. 5 starter.
If there's a big concern with this rotation, it's much more age- and durability-related than it is talent-related. Kuroda and Pettitte have seen close to 80 winters between the two of them, and Sabathia had to spend two different stints on the disabled list in 2012. Nova also spent some time on the DL.
Herein lies this rotation's big question mark: Depth. It doesn't have enough of it, and Cashman needs to do something about it.
What the Yankees need is a guy who could serve as a spot starter and a long reliever, a la Freddy Garcia. He's still out there looking for work if the Yankees are open to bringing him back, but they could also take a look at guys like Aaron Cook, Randy Wolf and perhaps old friend Chien-Ming Wang.
They could also give Brett Myers a look. He was a reliever in 2012 for both the Houston Astros and the Chicago White Sox, but Ken Rosenthal of FoxSports.com says that he wants to start again. If no other teams are willing to give him that chance, the Yankees could snatch him up on a one-year deal.
Like with the team's search for an outfielder, it's hard to see Cashman going for anything more than a one-year contract to fix this particular problem. He's just looking for an insurance option, after all, and there's no need for him to break the bank with David Phelps available to help and Michael Pineda (remember him?) due back later in the year.
Once Cashman has taken care of the team's need for starting rotation depth, he should turn to the team's troublesome catching situation.
Phase 3: Add a Quality Veteran to Catching Depth Chart
Russell Martin bolted for Pittsburgh in late November, and the Yankees chose not to replace him with Mike Napoli or A.J. Pierzynski.
For that matter, they may not replace him at all. Jon Heyman says the Yankees' plan is to move forward with what they already have:
#yankees did NOT make an offer to AJ pierzynski. plan at present is to go with cervelli/stewart/romine

— Jon Heyman (@JonHeymanCBS) December 21, 2012
You can take this for what it's worth. Since we're talking about a youngster with very little big league service time and two guys who are at best part-timers, I'm choosing to take this with a block of salt.
It's perfectly fine for the Yankees to want to groom Romine as an everyday catcher, but they shouldn't want to groom him in the company of Stewart and Cervelli, neither of whom has carved out a steady career in the big leagues yet. The best Cashman can do is sign a veteran catcher who's been around the block a few more times than either of them.
To this end, Cashman has options. Guys like Rod Barajas, Miguel Olivo, Kelly Shoppach, Yorvit Torrealba and Matt Treanor are all out there, and any one of them would make sense for the Yankees. They have the experience that Stewart and Cervelli don't, and just as important, any of them could probably be had on a one-year deal.
Torrealba is the Yankees' best bet. He's not much of a hitter—he had a .623 OPS in 2012 and he has a .702 OPS for his career—but he's a solid defensive player who's played in two of the last six World Series. So long as he's willing to accept a job as a tutor, Romine could learn a heck of a lot more under Torrealba than he could under either Stewart or Cervelli.
Once Cashman shores up the team's catching situation, he can turn his focus to his bullpen.
Phase 4: Add a Low-Risk, High-Reward Reliever to Bullpen
Mariano Rivera will return to his usual ninth-inning duties in 2013, and he'll be supported by one of the best setup men in baseball in David Robertson.
Without Rafael Soriano, however, the Yankees' bullpen is looking a little shallow. Just as concerning is the fact that the Yankees don't have an insurance option in the event that Rivera crashes and burns in his return from his torn ACL, as Robertson failed to prove himself as a closer when he was given a chance in 2012.
Joakim Soria and Ryan Madson both would have been excellent gambles for the Yankees, but there are still some low-risk, high-reward relievers on the open market that they can bring aboard as insurance for Mo.
Brian Wilson, who missed almost all of 2012 after undergoing Tommy John surgery, is one of them. He's a free agent after being non-tendered by the San Francisco Giants, and he should be open to taking a one-year "prove it" deal. The Yankees could give him one of those, with the idea being to see if Wilson still has the stuff that he showed in his three All-Star seasons with the Giants.
Beyond Wilson, another name that comes to mind once again is that of Brett Myers. He's served as a closer on two separate occasions, and he's particularly appealing because of how he would be an insurance option for both Mo and the starting rotation. He'd be worth overpaying on a one-year deal.
If either Wilson or Myers is unwilling to accept what the Yankees are offering, they could try their luck with Jose Valverde, Francisco Rodriguez or Francisco Cordero. All three of them have track records as successful closers, and they're worth taking a chance on for cheap after their disastrous 2012 seasons.
The key here is basically for the Yankees not to leave "good enough" alone. Indeed, the same is true of their other needs. As minor as they appear to be, they are very real potential pitfalls, and the AL East could eat the Yankees alive if they fail to cover them up.
This is not to suggest that the Yankees will be the favorite to win the AL East if Cashman does patch up these holes. It would take something a lot bigger for them to be the clear favorite, and the fact is that Cashman's hands are tied in regards to a potential blockbuster or two.
He's doing what he can with what he has this winter, and he has no choice but to carry on as he's been carrying on.
Note: Stats courtesy of Baseball-Reference.com unless otherwise noted. Salary and payroll information courtesy of Cot's Baseball Contracts.
If you want to talk baseball, hit me up on Twitter.
Read more New York Yankees news on BleacherReport.com