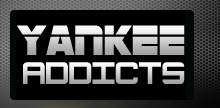 January 6, 2012 · Michael Moraitis · Jump to comments
Article Source: Bleacher Report - New York Yankees
It might not be obvious now, but Phil Hughes will be one of the most watched and vital pieces to the New York Yankees' success in 2012.
Hughes, in my opinion, will be the third starter barring a surprise (or not so surprising) lapse before the season starts. Success in that slot of the rotation will be important in giving the Bombers stability in their starting five.
We basically have a good idea what you're going to get from CC Sabathia and Ivan Nova, but beyond that, there is no certainty. Even Nova, with only one full year of experience, isn't exactly a given. A.J. Burnett will be a toss-up, while Freddy Garcia might have a tough time duplicating 2011.
That makes Hughes' role monumentally more important. He could be the wild card. If you factor in health, it's easy to make the case he's just as big a question mark as the rest of New York's rotation.
In his own right, Hughes needs to get it done this season. It could be one of Hughes' last in pinstripes and if he ever wants to come close to reaching the initial expectations with the organization, he needs to do it this season.
Not a glimpse, or a good first half, but a solid season that gives the Yankees a stable 1-2-3 in their rotation. If Hughes can be that pitcher, it would take a ton of pressure off Ivan Nova, A.J. Burnett and Freddy Garcia.
It's funny how Hughes once had the expectations of being an ace pitcher in the MLB and now, if he becomes a consistent third starter, it might actually be considered a success. Of course his performance in the postseason will have much of the say over that, but it comes with the territory.
The Yankees have their diamond in the rough this season, much like they had in Bartolo Colon in 2011. And normally, the Yanks find one of these guys off the scrap heap in free-agency that unexpectedly helps them along during the season en route to the playoffs.
Maybe what we don't know is that the guy off the scrap heap is already on the team. And has been for what seems like forever.
I can't imagine much of a chance left for the career of Phil Hughes as a Yankee if he doesn't answer the call this season. He might have another year of arbitration, but he will be an inexpensive piece capable of being moved to the bullpen the following season.
At some point the Bombers will be making changes to this rotation, whether by trade, free-agency or young talent coming up through the system. If Hughes still can't cut it, the Yanks won't hesitate to replace him with whomever they bring in.
For Phil Hughes, the time is now and this is the biggest season of his career. For his sake, and the Yankees', he better not blow it.
Read more New York Yankees news on BleacherReport.com