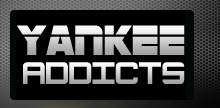 June 9, 2009 · Andrew Zercie · Jump to comments
Article Source: Bleacher Report - New York Yankees
Since the middle of the 2007 season, fans, "experts," anonymous baseball executives and countless others have weighed in with an opinion about what Joba Chamberlain's role should be on the New York Yankees.
After seeing Phil Hughes mow down the Tampa Bay Rays during the seventh inning of the Yankees' 5-3 win last night, perhaps a new debate could be brewing.
Like Chamberlain, Hughes has teased both the Yankees organization and their fans with his potential.
Phil Hughes has flashed this potential on a few occasions, and is perhaps best known for leaving a no-hit bid against the Texas Rangers in May 2007 due to a hamstring injury.
In fact, injuries have long been an issue for Hughes. Thankfully, Hughes has not suffered any arm, elbow, or shoulder injuries, however. In addition to the hamstring injury in 2007, he missed a significant portion of the 2008 season with a broken rib.
This year, he was called up from Triple A Scranton to fill in for Chien-Ming Wang and Hughes pitched like most young pitchers his age do. Hughes mixed in some brilliant work with some awful work, and the overall results were mostly mixed.
As a result, Hughes has been relegated, for the time being, to the Yankees' bullpen. It seems to be a matter of time before Hughes is sent back down to Scranton to hone his craft and improve toward becoming the great starting pitcher the Yankees believe he is capable of being.
Last night's dominant inning of work out of the bullpen could be cause for a change in plans, however.
While Brian Bruney is close to returning, the fact that he's been on the disabled list twice this year with an injury to his right elbow makes his status for the season tenuous at best.
Alfredo Aceves has been reliable most of the time, and David Robertson has pitched well of late, but the Yankees have shuffled through a series of inconsistent right-handed relief options this year.
Hughes certainly has the ability to dominate hitters in short stints. He blew away Evan Longoria to finish the seventh inning last night, following ground ball outs from B.J. Upton and Carl Crawford.
Sometimes, the best laid plans of an organization go awry. Sometimes, teams stumble into success. When Mariano Rivera was converted into a reliever in 1995, it was because he was a failed starter.
496 saves, four championships, and one legacy later, Rivera clearly is a success story.
While it may be too soon to label Phil Hughes as a "failed" starter, it may not be too soon to fire up a new debate about a young Yankee's role on the pitching staff, especially if Hughes follows up last night's performance with another dominant relief outing or two against Boston this week.