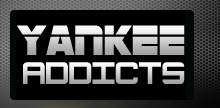 News published by
February 26, 2010
Whenever New York Yankees captain Derek Jeter speaks, it's rare that he allows much to be known: Jeter likes to keep his true thoughts to himself, always has. Earlier this week, Jeter ...
December 7, 2009
With the Baseball Winter Meetings set to open on Monday in Indianapolis, expect the rumors to fly, and figure the Yankees to be garnering headlines. In fact, some stories have already ...
October 15, 2009
Because the New York Yankees and Los Angeles Angels of Anaheim have made it to the postseason nearly every year this decade, it's easy to forget that these teams have ...
August 15, 2009
Derek Jeter's inevitable march to Cooperstown began in 2005, when Jeter completed his 10th major league season. Since then, it has only intensified as he approaches some of the no-brainer ...
August 8, 2009
I didn't watch Friday night's game between the New York Yankees and Boston Red Sox. I was at a minor league ballgame with my son, and we had the opportunity ...
July 30, 2009
With the Major League Baseball non-waiver trade deadline less than 24 hours away, here are some predictions about which AL East players and teams could be impacted by 4 p.m. ...
July 22, 2009
The July 31 non-waiver trade deadline is fast approaching, but I expect the New York Yankees to stand pat. The Yankees are not without their flaws, of course. However, the Aug. ...
July 22, 2009
Adam LaRoche? Seriously? I fully expected the Boston Red Sox to acquire a hitter at some point, either before the July 31 non-waiver trade deadline, or before the August 31 waiver ...
July 7, 2009
After handing out mid-season grades to the New York Yankees' lineup, I felt compelled to give the starting rotation the same treatment. Well, maybe not the exact same treatment. While the ...
July 6, 2009
The New York Yankees have reached the halfway point of the season at 48-33, four games better than last season at this time (44-37), and have won 10 of their ...