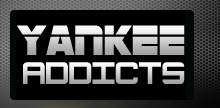 February 26, 2010 · Andrew Zercie · Jump to comments
Article Source: Bleacher Report - New York Yankees
Whenever New York Yankees captain Derek Jeter speaks, it's rare that he allows much to be known: Jeter likes to keep his true thoughts to himself, always has.
Earlier this week, Jeter held a press conference prior to the first day that position players were obligated to be in Tampa for spring training.
While most of what he said to the media was the usual vanilla—uncontroversial stuff he's stuck to for 15 years—there appeared to be some interesting material tucked in between the boring run-of-the-mill quotes many are used to reading.
What follows is my attempt to deconstruct some of Jeter's quotes to provide a better understanding of the deeper meaning behind his carefully-crafted answers to questions from the media. Quotes by Derek Jeter were found in various published reports.
What Jeter said: "I've never gone into a season focused on the next season. My approach since Day One is to do whatever you can to help the team win in that particular year. I'm not thinking about what's going to happen next season."
What Jeter meant: This is the only quote that I believe didn't carry any hidden meaning.
What Jeter said: "This is the only organization I've ever wanted to play for. That's still true today. I was a Yankees fan growing up, and this is where I want to be. I've never envisioned myself playing anywhere else, and hopefully I don't have to."
What Jeter meant: I was fortunate to be drafted by the Yankees.
My image would have been completely different if I had started my career with, say, the Kansas City Royals. I signed with the Yankees or another big market team a while back because my first team couldn't afford to keep me.
What Jeter said: "I don't have a problem with [not having a chance to negotiate a new contract before the season starts]. That's the new policy that [the Yankees] have. They have every right to do that. I signed a long deal, I'm still under contract with that deal, and they have the right to do whatever they want."
What Jeter meant: I signed a 10-year contract before the 2000 season started, so this wasn't always their policy.
In a perfect world, I'd already have a new contract that begins following this season, but things have changed. I am still under contract.
I have made a boatload of money under this contract. I have nothing to complain about.
What Jeter said: "I never put limitations on how long I can play. I'm going to play as long as I'm enjoying myself. I'm having a blast right now. You work extremely hard in the offseason to make adjustments. I think I've done that, and I'm going to have to continue to make adjustments through the years. I want to play as long as I can, as long as I'm having fun, and as long as I'm being productive."
What Jeter meant: Well, Alex [Rodriguez] is under contract through age 42, and Mo [Mariano Rivera] will undoubtedly receive a multi-year deal after this year at age 40 or whatever he is. The guy is just ageless.
I'd like to be treated the same as my future Hall-of-Fame peers have been and will be.
The organization knows what kind of work I put in during the offseason.
In fact, I have changed my offseason training routine in recent years because the Yankees pointed out some deficiencies in my game that needed to be improved on. I am open to constructive criticism, but expect treatment equal to my effort.
What Jeter said: "I've never been in that situation. I've never been a free agent; I've never wanted to be a free agent. That's why I signed such a long deal. I felt, the longer the better, because I didn't want to have to answer these questions."
What Jeter meant: I don't plan on being a free agent this offseason.
Either a contract with the Yankees will get done during their exclusive rights to negotiate after the season ends, or I will retire with my dignity intact.
If negotiations drag out for any reason, it will mean that the Yankees don't believe that I am able to play everyday any longer.
What Jeter said: "I think it's unfair to be talking about myself when we're trying to win. That's the approach I've always had. It's not going to change. I know it's going to cause speculation and stories out there, but it won't be a distraction because I won't be talking about it."
What Jeter meant: I'm having this press conference to humor you all [the media].
Once this is over with, I will go back to my usual vanilla quotes about putting the team first, putting winning above all else, and giving my teammates credit ahead of myself.
What Jeter said: "I can't think about what's going to happen after this year. You don't think about what legacy you have when you're still playing. That's something you consider when your career is over."
What Jeter meant: Unless the BBWAA pull an Alomar, I know that, whether it's six years or 16 years from now, I'll waltz into the Hall of Fame on the first ballot.
The Yankees will retire my number. I get all of that.
I'm just not comfortable talking about it.
What Jeter said: "My desire is to stay here. I haven't thought about … how much money [I] want because we haven't sat down to negotiate anything. That hasn't crossed my mind. That's not what I play for. I play in order to try to help this team win. That's what I've always done. My feeling is everything else will take care of itself."
What Jeter meant: My agent will work on my behalf to get a fair contract for both sides.
I can't imagine the Yankees would offer a pay cut, because I've done nothing to warrant that.
My value to Yankees—both on the field and off of it—has never been higher.
If the Yankees wind up balking at what my agent considers fair value, like I said before, I'll just retire. I'm not going to make the organization look bad, because it's not in my nature.
This won't be contentious. It will be cut and dried. Either the organization will offer what we consider fair value, or they won't.
There you have it. I'm no mind-reader, but it seemed to me that there was some weight to Derek Jeter's words this week—if one were to look for them.
Read more New York Yankees news on BleacherReport.com