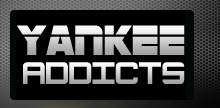 April 16, 2010 · Perry Arnold · Jump to comments
Article Source: Bleacher Report - New York Yankees
After two starts for every other New York Yankee starting pitcher, 23-year-old Phil Hughes made his first start of the 2010 season last night against the Los Angeles Angels of Anaheim.
Hughes got the win, pitching into the sixth inning. He was good, at times overpowering, and also inconsistent.
Hughes struck out six but also walked five. He gave up only three hits, one of them a home run, and finished the game having given up two earned runs in five innings.
One of the curious things about Hughes' start is that after going long enough to get the win and having thrown 100 pitches at that point, manager Joe Girardi sent Hughes back out to start the sixth inning.
The Yankees have announced that Hughes will have innings limits this season, similar to what Joba Chamberlain had last year. Hughes will not be as limited as Chamberlain because Hughes has thrown more innings in the minors than Joba ever did. But there will still be innings limits, probably in the range of 175.
Which raises again the question of whether the innings limitations are stupid or the Yankee management is stupid.
If limiting Hughes' innings is so critical, then why not let him shower and rest after the game treatment from the trainers after five innings? Why send him back out there?
Innings limits are so arbitrary anyway. We know they are watching pitch counts, and how many pitches are thrown is more of a concern than how many innings are worked.
Al Leiter, in the Yankee booth, commented last night on how a pitcher likes to work a game in a way that he has 15 or fewer pitches per inning. That would give the pitcher 90 pitches in six innings.
But last night, Hughes could not keep his pitch count that low. In five innings he threw 100 pitches or 20 per inning. And then he was sent back out. One must ponder why this was done.
Hughes has been one of the Yankees' young promising stud pitchers since he was selected in the first round of the draft right out of high school.
He came to the bigs in 2007 and was briefly spectacular before pulling his hamstring in a game in Texas when he had a no-hitter in progress.
In the 2007 offseason the Twins asked for Hughes in a possible deal for Johan Santana, and the Yankees would not part with the kid even for one of the top three pitchers in baseball at that time.
In 2008 Brian Cashman introduced his highly publicized youth movement for pitchers. Hughes was given a starter's role at age 21 along with Ian Kennedy, and both were disasters.
It turned out that Hughes was injured with a fractured rib. He was placed on the DL and rehabbed in the minors after recovering.
Hughes started last season at Triple-A Scranton but was quickly brought to the Bronx when Chien-Ming Wang could not pitch. Hughes was effective as a replacement starter, and when Wang returned from an "injury," Hughes was up in the air.
Some were of the mind to send Hughes back to Triple-A and let him work as a starter. Others wanted Hughes' talent in New York, and they won out as Hughes became very valuable in the bullpen.
There were voices who cried for Hughes to remain in the pen for 2010. But Cashman asserted that Hughes was a starter and would compete for that job even while saying his innings would be limited as a starter.
In spring training Hughes won the starter's position over Joba Chamberlain, Sergio Mitre, and Alfredo Aceves.
Hughes showed last night he deserves the job he won. But observers should watch very carefully to see if the Yankees do as masterful a job of screwing up Hughes as they did Joba. They might have made a good beginning last night when they "stretched him out" by bringing him back in the sixth.
They will count this as only five innings apparently. But in his first start, throwing 108 pitches is questionable.
Read more New York Yankees news on BleacherReport.com