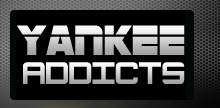 April 10, 2010 · Bronx Baseball Daily · Jump to comments
Article Source: Bleacher Report - New York Yankees
CC Sabathia is on the mound for the Yankees fifth game of the season today. It is a spot where the Yankees could have gone with their fifth starter, but instead left him, Phil Hughes, down in Tampa to participate in extended spring training.
Today was Hughes' final extended start, and he went six innings striking out "five or six" and is ready to go when the fifth start spot comes around again this Thursday in the Bronx against the Angels.
Hughes was kept in extended because early in the season the Yankees had enough off days to skip the fifth starter, keeping the rest of the rotation on their normal rest. From now on though, Hughes will get the ball every fifth day and will be a full member of the rotation.
That doesn't mean the Yankees are going to just let him loose to throw 200 innings. There will be rules when it comes to Hughes just like there were over the past two years with Joba Chamberlain . There will be a difference though, Hughes' version of the Joba Rules, or the Philosophy, will be much more relaxed.
The innings limit is higher in this case with Hughes than it was for Joba mostly because Hughes has been in the organization longer and has been a starter for a full season in the past. 2009 was really Joba's only professional season as a full-time starter.
By skipping his first two starts the Yankees have effectively already taken a start to limiting Hughes' action. Although he has thrown in the meantime, the stress of spring innings is not nearly as harsh as starts against the Red Sox or Rays would have been and it also gave Hughes further time to work on his changeup.
From here on out he will by and large be treated just like another member of the rotation. Girardi said that they may occasionally skip him here or there when they have the chance and my guess is that they'll also keep him on a pretty strict pitch count.
Get ready, Hughes is coming to the Bronx on Thursday. Are you excited?
Related Stories
Read more New York Yankees news on BleacherReport.com