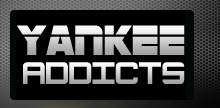 April 22, 2009 · Gary Marchese · Jump to comments
Article Source: Bleacher Report - New York Yankees
Phil Hughes made the start for the AAA Scranton Yankees tonight, and pitched well. If the Yankees are looking at bringing him up to take Chien-Ming Wang's spot in the rotation, well, he is trying to help make their decision.
I honestly don't know what Wang has to show them tomorrow to make his next start (which would be in Detroit on Tuesday), but I am sure it would have to be something really fantastic.
Here are Phil Hughes's numbers so far this year, including tonight's start. He has pitched nineteen and one-third innings, giving up eleven hits with three walks and nineteen strikeouts. He is 3-0 with a 1.86 ERA. The most important thing for him is health and so far, he has been healthy and pitching great. I really expect to see Phil Hughes up pitching in Detroit, looking to redeem himself after a terrible year last year when he was trusted with a spot in the rotation. I would like to hear some thoughts on this topic, so please feel free to share your opinions.
The other question is, if Phil Hughes comes up and pitches well, do you would think he would keep pitching? But then, what do the Yankees do with Chien-Ming Wang?? I would assume he would go to the bullpen and try and straighten himself out, but if Phil Hughes grabs this opportunity, then, hey, good for him. The bottom line is winning games and the Yankees have to do what they feel is best for the team. We will stay tuned.