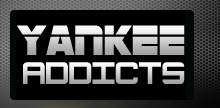 May 21, 2009 · Perry Arnold · Jump to comments
Article Source: Bleacher Report - New York Yankees
I was watching Phil Hughes last night and thought to myself: "What is wrong with this guy?"
"Why can't he dominate all the time?"
"Why is he so up and down?"
This morning, the same kind of thoughts were going through my head as I went back over the game from last night. Then it suddenly came to me that we are talking about a kid. He is still only 22 years old and won't turn 23 until next month.
He has had injuries that prevented him from pitching most of the last two seasons.
First he had a hamstring in 2007 and then a rib fracture last summer.
You can't very well develop as a pitcher if you can't pitch.
To some extent, you could even consider him to be even younger than he is, as he hasn't actually played a full two seasons.
Not too many pitchers can come up and be consistently dominant at his age.
The same can be said for Joba Chamberlain to a lesser extent.
As for Hughes, the Yankees need to hang with him and keep him as a starter.
If he isn't going to stay in NYC, then send him back to Scranton and let him start every fifth day.
He is going to be really good some day, he just has to have the chance to mature. He has to pitch to do that and he can't do it coming in for a few outs every second or third day.