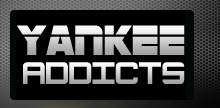 January 30, 2012 · Michael Moraitis · Jump to comments
Article Source: Bleacher Report - New York Yankees
It appears that Phil Hughes will enter spring training 2012 in the best shape of his life as he begins the most important season of his New York Yankee career this year.
Hughes showed up to spring training last season with a few extra pounds added to his frame. Coincidentally, the same year Hughes came into the season heavier, it was the same year he was riddled by injury and ineffectiveness.
Clearly we won't know if some of his problems were due to the shape he was in, but if this latest positive news about Hughes' physical condition proves accurate, he or the Yankees can't use that as an excuse if he doesn't succeed. And that's not to say that they would anyway considering they didn't last season.
This is a good thing for the Bombers going into February and ultimately, the season. It shows Hughes is dedicated to improving himself anyway he can so that he can return to the form that saw him win 18 games in 2010.
Hughes certainly has the ability to be a major wild card in the 2012 season. Having seen him pitch with a great deal of success before a tough 2011 is all the proof the Yanks need. This year will be his last chance to show that he can return to the top-notch pitcher that New York thought they were getting.
On the flip side, we've heard some rumors about the possibility of Hughes being traded which has become more prevalent since the Bombers added Hiroki Kuroda and Michael Pineda. New York finds itself with excess pitching and either Hughes or A.J. Burnett could be expendable.
Certainly Hughes has more value and might have added to that value by coming into spring training in better shape. Teams might be interested that would not have been before now that Hughes is showing a great deal more dedication than he did in 2011.
Whether Hughes is in the Yankees' plans for 2012 or not, a more fit Phil Hughes can only be a good thing for New York.
Read more New York Yankees news on BleacherReport.com