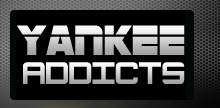 February 13, 2010 · Bronx Baseball Daily · Jump to comments
Article Source: Bleacher Report - New York Yankees
As a starter coming up through the Yankees minor league system Phil Hughes was pretty much a two pitch pitcher—fastball/curveball. Sure, he had a slider, and even a changeup, but the two pitches were works in progress at best.
At the end of 2008 he abandoned the slider for a cut-fastball. In 2009, as a reliever, he abandoned the changeup, a pitch he will need should he return to the rotation, altogether. Now he's going to spend spring training trying to get his changeup back.
"It'll be a big focus for me this spring," Hughes said . "I have to get used to throwing it. It may not be the most comfortable thing at first, but it'll be a good pitch for me down the line…now is the time it needs to come back."
Hughes is going to need that changeup if he's going to have much success as a starter. Last season, as a member of the bullpen, he didn't use it and he still managed to get by, but that was mostly luck.
Hughes was hesitant pitching against lefties last season, walking them at a much higher rate than right handed batters. Even when he came in the zone he got lit up to the tune of a 1.43 WHIP and .257 batting average against. A far cry from his 0.87 and .184 respective numbers against righties.
He still managed to overpower the American League for most of the season, until the playoffs. If he were in the starting rotation things might be quite a bit different. Hughes would be forced to deal with many more left handed hitters and would probably be left exposed.
But he's going to have to learn the changeup in the rotation which leaves the Yankees in an interesting situation. If Hughes spends another full season in the pen it'll set the pitch back another year developmentally to the point where he may never learn it.
That's not to say that Hughes can't be successful in the rotation without a changeup, but if he doesn't learn it in 2010 he's going to have to find another approach against lefties, because his pitching was ugly against them without it last season.
Another interesting problem comes up because of all of this. Hughes will be battling Joba for the fifth starter position. He's also going to be working on his changeup, meaning it would be in his best interest to throw it as much as possible. But, in reality, it is his forth best pitch.
How much is he going to want to throw it in key situations if it is going to effect his chances at winning the final rotation spot?
So Hughes' spot in the rotation could depend on how quickly he picks up this pitch. Is that what it should hinge on? If he cannot throw a changeup?
Some guys never learn changes, does that change your opinion on him as a starter vs. reliever?
Related Stories
Read more New York Yankees news on BleacherReport.com