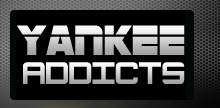 April 28, 2009 · Marisa Scolamiero · Jump to comments
Article Source: Bleacher Report - New York Yankees
For the past three seasons, the Yankees have been grooming Phil Hughes to become one of their star pitchers for the future. There was so much hype about Hughes, but not much to go with it.
He'd spent time in the majors in 2007 and 2008, but went 0-4 in 2008 with an ERA over six. The Yankees put Hughes on the DL with a ribcage injury and he spent the remainder of the season in Scranton trying to return to form.
Many people suspected that Hughes was ineffective last season largely because of the pressure that existed for him to succeed. The Yankees had made it clear that Hughes, Ian Kennedy, and eventually Joba Chamberlain, would be the future of the the pitching staff and needed to help the team.
At 20-years-old, Hughes was not ready to have all that pressure on his shoulders, and his pitching showed it. There was no assurance that he would be able to pitch in the majors with any success, just hope that the Yankees had not made a bad investment.
This February, Hughes reported to spring training a different pitcher. Manager Joe Girardi was impressed with the way he was throwing the ball, and how he was approaching hitters. Despite having an excellent spring, the Yankees sent Hughes down to Scranton to start the season.
Last weekend, the Yankees had to put Chien-Ming Wang on the DL with weakness in his hips, which opened up a spot in the rotation for Hughes.
The problem with Hughes in the past was that he was able to pitch well in the minors, but couldn't necessarily translate that success to the majors. The Yankees were in serious need of a boost, and they were hoping that Hughes could deliver.
He delivered and then some.
Hughes pitched six shutout innings. He gave up two hits, walked two batters, and struck out six as the Yankees went on to defeat the Tigers 11-0.
While the win was much needed, the more impressive thing was how Hughes managed to keep his composure each inning. He got into a bases loaded jam and worked out of it without surrendering a run, a situation that might have gotten him into trouble in the past.
Hughes looked like the pitcher that the Yankees have been talking so highly of for the past two-plus years. While it is only one start, the Yankees and Hughes have to be pleased with what they saw.
Hopefully, Hughes can keep on delivering and help the Yankees while the other starters (with the exception of Andy Pettitte) get themselves figured out.