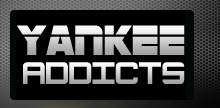 April 28, 2009 · Andrew Zercie · Jump to comments
Article Source: Bleacher Report - New York Yankees
The trend for the Yankees in recent seasons has gone like this:
Put together a team filled with 30-somethings, get off to a slow start, call up young players for an "infusion of youth," and play better baseball.
In 2005, Robinson Cano and Chien-Ming Wang were big factors as the Yankees roared to a 95-win season after starting 11-19.
Mekly Cabrera did "all the little things" for the Yankees in 2006, including improving their outfield defense noticeably.
2007 was all about Joba Chamberlain becoming the eighth inning savior ahead of Mariano Rivera, that is until the midges struck in the ALDS against Cleveland.
If Tuesday night's 11-0 win over Detroit is any indication, the Yankees appear to be following that script again in 2009.
Phil Hughes, whose career has been derailed by injuries since his debut in 2007, tossed six shutout innings filling in for Chien-Mien Wang.
Mark Melancon, who was slated for Triple A in 2009, tossed another shutout inning for the Yankees—his third in his first two appearances.
Both pitchers showed what they are capable of against a solid Detroit Tigers lineup.
More importantly, with the Yankees reeling from losing four straight, Hughes and Melancon gave the team exactly what they needed in a pressure packed situation: seven shutout innings and the belief that brighter days may be ahead.
For Hughes, it was his first major league win since Sep. 27, 2007, and one gets the sense that it won't be his last this season or even this week.
As for Melancon, it seems as if Joe Girardi is holding an open audition to find quality and consistent pitching in the middle innings.
Back to back effective outings can only bolster Melancon's case of becoming a fixture in the bullpen.
While Hughes and Melancon could simply be "keeping the seat warm" for injured established veterans Chien-Ming Wang and Brian Bruney, it would be in the Yankees' best interest to find roles for these talented pitchers at the major league level for the rest of the season.
If Wang successfully comes back from his injury, why not install Hughes as a long reliever?
When Bruney returns, why not plug Melancon in as the primary seventh inning pitcher in front of Bruney and Rivera?
The Yankees need to keep these talented, hard throwing youngsters on the major league roster.
And, based on Ian Kennedy's numbers in Triple A thus far (1.59 ERA, 25 K, 7 BB, 18 H in 22.2 IP), maybe the Yankees should find room for him somewhere as well.
Keeping these guys in the majors could be the difference between the postseason and third place in the AL East this year.