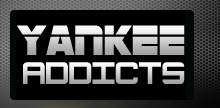 April 24, 2009 · Andrew Zercie · Jump to comments
Article Source: Bleacher Report - New York Yankees
Kevin Youkilis just hit a home run over the Green Monster seats in the 11th inning to win the game for the Red Sox over the Yankees, 5-4.
Upon smacking his game-winning home run, Youkilis flipped his helmet off his head as he rounded third, then jumped into his teammates at home plate. It was a scene straight out of the ALCS, except it was April 24. Game 16 of the regular season.
In the grand scheme of things, it was a meaningless game in comparison to a postseason game, or a game that decides the wild-card. So why act in a manner that makes you a target in future games, Mr. Youkilis?
Now we understand why Joba Chamberlain has buzzed this guy a few times, and even plunked him in the head last year. And this outburst sheds a little light on the dust-up Youkilis had in the dugout with Manny Ramirez in full view of TV cameras.
Youkilis acted in a classless manner tonight, to say the least, and if this one incident is any indiciation of how he carries himself in general, he must be a terrible teammate.
I understand he and his team are excited. I know the game was highly dramatic: Jason Bay hit a game-tying, two-run shot off Mariano Rivera in the bottom of the ninth to send the game into extra innings.
Still, the celebration seemed over the top for April 24. There's still 18 more games in the season series between these two teams. Celebrate now, but don't be surprised if a beaning follows, maybe as soon as the first inning of the next game.