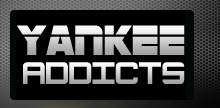 May 19, 2009 · Harold Friend · Jump to comments
Article Source: Bleacher Report - New York Yankees
It occurred between World Championships, which might be the reason it is not mentioned when discussing the last Yankees' dynasty.
But it was a performance that defined what the Yankees used to be.
It ranks with the heroics of Mickey Mantle, Reggie Jackson, Bucky Dent and Chris Chambliss—except the Yankees lost.
Paul O'Neill's Great Playoff Series
Paul O'Neill batted .421 in the first round of the 1997 playoffs against the Indians. He hit a home run in Game One, he hit a game-winning grand slam in Game Three, and he refused to be the final out of the series in Game Five.
It is only 12 years ago, but it might as well be 112 years ago, because the game and the attitudes towards not accepting defeat have changed so radically.
Paul O'Neill wanted to win, but he hated to lose so much, he would do anything to win. As a character in The Wire once said, "You like to win. I don't like to lose. It's not the same thing."
The Yankees' Last Gasp
The Yankees were trailing the Indians, 4-3 in the top of the ninth inning in Game Five. The bases were empty, two were out, and Paul O'Neill was facing Jose Mesa.
O'Neill hit a deep drive to right center field that missed tying the game by about five feet. As O'Neill rounded first, he had already decided that he had to get to second to put himself into scoring position.
It appeared that he would be thrown out at second, but despite being beaten by the throw, O'Neill slid away from Omar Vizquel's tag, banging up his chin—but getting into second safely.
When Paul got up, his face was full of blood, yet all that mattered was that he had given the Yankees a chance. When manager Joe Torre sent Scott Pose in to run for him, Paul objected passionately, but it did no good.
Bernie Williams, the next batter, went after the first pitch, hit a fly ball to left, and the Yankees' season was over.
Paul's Passion
The 1997 playoff series against the Indians explained why Paul O'Neill threw his helmet, castigated himself, and lowered his head after striking out.
Every game was the seventh game of the World Series, and every at bat was the fifth game of the 1997 playoffs. He might fail, but he never failed to try.
Mel Allen, the only Voice of the Yankees, used to tell fans that the Indians' and White Sox' great pitcher, Early Wynn, would throw at his mother if she got too close to the plate.
It has been said that Paul O'Neill looks like he wouldn't want to lose to his kids in a game of wiffle ball.
We Lost
George Steinbrenner said "He showed you do not give up. Ever. Ever. A heart of a lion—that's what you think of when you think of Paul O'Neill. I wish I had 25 like him."
When Mr. Steinbrenner shook hands with O'Neill and congratulated him in the clubhouse for his great playoff-series performance, Paul's response summed up what Paul O'Neill was all about. "It doesn't matter. We lost."
Intensity and the pursuit of excellence cannot be separated. Some individuals demonstrate their intensity, overtly, while others possess it just as deeply but hide it within themselves.
Whitey Ford, Derek Jeter, and Mariano Rivera were or are no less intense than Mickey Mantle, Billy Martin, or Whitey Ford, but in the attempts to make society increasingly "politically correct," demonstrating intense feelings and emotions is frowned upon, which is too bad.
Baseball needs more players like Paul O'Neill. There is nothing wrong in wanting to win at any cost.
References:
By BUSTER OLNEY. (1998, March 1). The Moment That Defines O'Neill :His Ninth-Inning Double Against the Indians Made Him a Yankee Hero BASEBALL Last-Gasp Double Defines O'Neill. New York Times (1857-Current file),p. SP1. Retrieved May 19, 2009, from ProQuest Historical Newspapers The New York Times (1851 – 2005) database. (Document ID: 116581613).
Paul O'Neill at Baseball Library