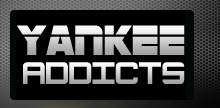 April 24, 2010 · Bronx Baseball Daily · Jump to comments
Article Source: Bleacher Report - New York Yankees
When Chan Ho Park landed on the disabled list with a sprained hamstring the Yankees hoped it would be a short stint for the reliever who has quickly become a valuable member of the bullpen, but according to Chad Jennings of the Journal News , his recovery is going to be a little longer than expected.
"He says it's still somewhat tight," manager Joe Girardi said. "It's not sore or painful, it's just somewhat tight, and if you push him too much while it's tight you might re-injure it."
Park is scheduled to start long tossing tomorrow before reporting to the Yankees Tampa complex this Monday. The Yankees will reevaluate him after another throwing session on Tuesday. So it won't be until then that the Yankees have a good idea of exactly when he will return.
When it comes to hamstring problems, the bottom line is that sometimes they tend to linger. Occasionally players get them and are back on the field within two weeks, but every now and then it takes up to a month or more. With pitchers, who's legs are so important, it usually is closer to a month.
Related Stories
Read more New York Yankees news on BleacherReport.com