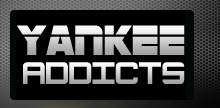 April 19, 2010 · Bronx Baseball Daily · Jump to comments
Article Source: Bleacher Report - New York Yankees
It has been a while since I last put pictures up of the old Yankee Stadium being torn down, so I thought now was as good a time as any. Especially since they have done so much over the past couple of weeks.
I must give a tip of my hat to Sliding Into Home , as Greg has kept his readers much more up to date with these pics and I simply stole these from him.
The first group of photos were taken this past weekend by Joseph Leotta, and the final four were taken by Baseball-Fever member DN4L .
Enjoy (even though there isn't much joy in these pictures):
Second set:
Related Stories
Read more New York Yankees news on BleacherReport.com