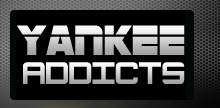 April 19, 2010 · Dan Hanzus · Jump to comments
Article Source: Bleacher Report - New York Yankees
Let's start today with a little numbers exercise:
Player A: .333 BA 1 HR 5 RBI .443 OBP .471 SLG
Player B: .380 BA 3 HR 9 RBI .404 OBP .600 SLG
Player A: 3.57 ERA 0-2 W-L 14 K 1.47 WHIP
Player B: 1.35 ERA 2-0 W-L 14 K 1.20 WHIP
Player A: 3.38 ERA 3 SV 2 K 1.31 WHIP
Player B: 0.00 ERA 5 SV 5 K 0.60 WHIP
Player A: .378 BA 1 HR 10 RBI .473 OBP .556 SLG
Player B: .378 BA 3 HR 6 RBI .465 OBP .730 SLG
In the first, second, and third cases, Player B is clearly outperforming Player A. You can make the same argument in the fourth case as well.
Now I'll tell you that Player B, in order, is Derek Jeter, Andy Pettitte, Mariano Rivera, and Jorge Posada. Player A, in order, is NL MVP runner-up Hanley Ramirez, AL Cy Young Zack Greinke, All-Star Jonathan Papelbon, and AL MVP Joe Mauer.
The numbers have not been doctored to protect the legacy of modern-day Yankees legends. The figures are the real deal.
Yes, it's been a good start for the Old Guard.
We're only 11 games into the 2010 season, but the 30-somethings that inhabit the Yankees roster are playing like Bill Clinton is still in office. This is weird, because the Old Guard is, well, old.
Last season, it felt like the OG was fighting against a ticking clock. Jeter, Posada, Pettitte, and Rivera were all having fine seasons, but you started to get the feeling that you were watching the last chance for the Old Guard to play at a level that matched the New Guard.
This certainly made sense at the time. Baseball is a young man's game—especially in this post PED world—and the OG is clearing 150,000 miles on the odometer. Of course, the Yankees seized that opportunity with title No. 27 last year, and the veteran core played an instrumental part in it.
After winning their fifth title together, no one could've been shocked if all or some of the OG began the slow decline in '10. Everybody loses their fastball eventually. Eddie Murphy used to be funny. Lindsay Lohan used to be hot. Everything changes.
Right?
Something seems to have happened on the way to the retirement home for the Old Guard. They're outplaying their contemporaries, and it's making the Yankees a juggernaut.
Will it last? It's way too early to say, but if they pulled it off last year, who's to say they can't do it again? And if they do pull it off again, well, let's just say the chances of the World Series trophy staying in the Bronx are exceedingly good.
Dan Hanzus writes the Yankees blog River & Sunset and can be reached via e-mail at dhanzus@gmail.com. Follow Dan on Twitter at danhanzus.
Read more New York Yankees news on BleacherReport.com