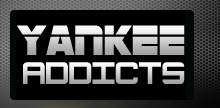 December 19, 2011 · Rick Weiner · Jump to comments
Article Source: Bleacher Report - New York Yankees
Merely implying that the New York Yankees should consider trading Manny Banuelos, the "crown jewel" of their farm system, gets some fans foaming at the mouth and fired up like a rabid dog.
So please, roll your chair back from your monitor, wipe your mouth, take a deep breath and count to 10.
Better? Good.
On Friday, we looked at the past 11 years of Yankees prospects, the many who were considered to be "sure things"—but ended up being anything but that—and how trading prospects before they reach the majors, while their perceived value is still high, is sometimes the smartest thing a team can do.
Take the trade this weekend between the San Diego Padres and Cincinnati Reds, one that saw 24-year-old Padres ace Mat Latos sent to the Reds for Edinson Volquez and a package of prospects—including two of their best in Yonder Alonso and Yasmani Grandal.
To get quality starting pitching via trade, you have to be willing to trade quality in return.
Or at least trade what is perceived to be quality in return.
So while Brian Cashman has remained steadfast in his stance that he has no interest in moving any of his most ballyhooed prospects—Banuelos included—you can never say never.
Lets take a look at who the Yankees may be able to target should they decide that they absolutely must have another front-of-the-rotation starter heading into 2012.