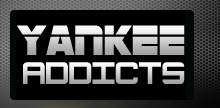 December 12, 2011 · Rick Weiner · Jump to comments
Article Source: Bleacher Report - New York Yankees
Following the trade that saw the Chicago White Sox send their closer Sergio Santos—along with the three years and more than $8 million remaining on his contract—to the Toronto Blue Jays in exchange for 22-year-old RHP prospect Nestor Molina, Kenny Williams said something that had not come out of his mouth in more then a decade:
"It is the start of a rebuilding. And you guys know I have not used that word in 12 years."
The White Sox are rebuilding, and that means reducing payroll. What was a $127 million payroll in 2011 stands at $90.75 million entering the 2012 season—but that's just for 12 players.
John Danks, a 26-year-old left-handed starter, will hit the open market following the 2012 season.
Kenny Williams is no fool—he knows that the chances that he will have the payroll flexibility to re-sign the lefty, as Danks receives offers from teams like the New York Yankees and Boston Red Sox are slim.
As usual, the Yankees are in the market for starting pitching and definitely have interest in Danks—just not at the current asking price, which is said to be Jesus Montero and Manny Banuelos.
Coming to a mutually beneficial agreement on a deal for Danks makes sense for both clubs.
Here's how.