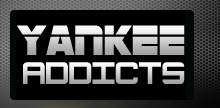 February 16, 2012 · Joe Perrino · Jump to comments
Article Source: Bleacher Report - New York Yankees
The New York Yankees are certainly not lacking in numbers when it comes to starting pitchers.
Currently, the Yanks possess seven starters on their roster: C.C. Sabathia, Hiroki Kuroda, Ivan Nova, Michael Pineda, A.J. Burnett, Phil Hughes and Freddy Garcia.
Realistically, it seems as though some changes will be made before the 2012 season begins, perhaps including the recently speculated dealing of A.J. Burnett to another club.
Nothing is guaranteed, however, and it is most definitely fun to discuss some creative (and somewhat unconventional) ways that the Yanks could (didn't say should) utilize all seven of their starters.