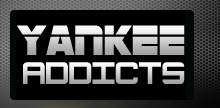 News published by
April 5, 2012
In baseball, there's an unwritten law that the third spot in the batting order is reserved for the best hitter on the team.In the case of the New York Yankees, ...
March 29, 2012
The New York Yankees are undoubtedly one of the greatest sports franchises of all time.Deeply rooted in tradition and committed to excellence, the Yankees lead the MLB in World Series ...
March 12, 2012
Adonis Garcia is the latest International baseball superstar to draw interest from several major league teams.Among those teams are said to be the Oakland Athletics and the New York Yankees.Hailing ...
March 3, 2012
The 2012 spring season features a series of games between the New York Yankees and the Philadelphia Phillies.Inhabiting two of America's major sports cities, the Yankees and Phillies have both seen ...
February 16, 2012
The New York Yankees are certainly not lacking in numbers when it comes to starting pitchers.Currently, the Yanks possess seven starters on their roster: C.C. Sabathia, Hiroki Kuroda, Ivan Nova, ...
February 9, 2012
This January, Yankees General Manager Brian Cashman indicated that his team was in search of a quality DH. He also made it clear that he would prefer utilize his deep ...
January 30, 2012
The New York Yankees have cultivated a number of home-grown superstars in their history as a franchise. Players such as Yogi Berra, Lou Gehrig, Tony Lazzeri, Derek Jeter, Jorge Posada, ...